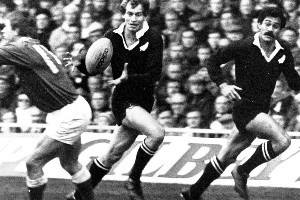 Dan Wheldon's death in Indycar racing last week extinguished a fine but unrealised career as a racing driver - and led the Herald on Sunday sports team to mark with respect others who died before their sporting light shone brightest.
Nicky Allen
He was a small boy, kicking a rugby ball to himself and buzzing noisily round the feet of his older brother Rob, a talented halfback. The boy was showing all the instinct and dexterity that would later stamp him as a great who died before his time. Nicky Allen was a natural; one of those players who could do seemingly anything with a rugby ball and who had an innate sense of creativity and flair. From his sophisticated left boot to an ability to glide past defenders, Allen was class - even if we can't really claim to have seen it when he attended the 1st XV matches Rob and I played in.
But we saw it 10 years or so later when Graham Mourie's All Blacks hammered Wales 23-3 at Cardiff Arms Park in 1980 - a hiding in those days; underlined by the fluidity of play of the All Blacks and their young first five-eighths.
It was a display which prompted the Welshman standing next to me to offer a drink from his bottle, saying: "Ye Gods, we'll never catch up to you lot."
Allen scored a try that day, even if he did bounce the ball when forcing it, something which remains in a lot of long Welsh memories. There was no mistaking his ability but it was not to be seen much thereafter. A free spirit, he remained in Britain after the tour, injuring himself and missing the entire 1981 season. More injuries followed as he tried to re-establish himself and Grant Fox was becoming a fixture in the Auckland scene - so Allen headed to Australia where he was caught in a heavy tackle in 1984 in club rugby and died, aged just 26. He played only two tests- one as an injury replacement for Wayne Smith in Australia in 1980 (the All Blacks lost 26-10) and that smooth, exciting first five's game at Cardiff that year; a display which led many All Blacks of the day, when asked who they thought was the greatest first five they had ever seen, to answer: "Nicky Allen."
- Paul Lewis
Anthony Wilding
Wilding was arguably the greatest tennis player this country has ever produced. While he competed in a vastly different era, his record stacks up against anyone. The Christchurch-born Wilding won four consecutive Wimbledon singles titles from 1910-1913, was runner up in 1914 and also claimed four doubles crowns at SW19. He took out the Davis Cup (with Australasia) on four occasions as well as Olympic bronze in 1912. Perhaps his greatest year was in 1913; aside from Wimbledon - he also claimed the 'world hardcourt championships' on Paris clay and the 'world covered championships' (in Stockholm, on wood) - essentially the grand slam of his day. He won the Monte Carlo Masters four years in a row, a record only beaten by Rafa Nadal in 2009.
He was also an adventurer, riding his motorcycle solo across Europe to various tournaments on the continent and playing matches with British Prime Minister George Balfour and King Gustav of Sweden. With the onset of World War I, Wilding, like many of his contemporaries, volunteered for action and was sent to the western front in France. The day before his death, he wrote to a friend: "For really the first time in seven and a half months, I have a job in hand which is likely to end in gun, I and the whole outfit being blown to hell."He was killed in action on May 9 1915 - aged just 31. - Michael Burgess Sammy Wanjiru Wanjiru became revered in Kenya after the Beijing Olympics. He won the marathon in record Games time, claiming gold for a country obsessed with distance running. The image of his relief, scything through the finishing ribbon, is one of the event's most memorable. His fame, and subsequent wealth, was short lived. On May 15 this year he fell from a first floor balcony at his home, 150km north-west of Nairobi. The 24-year-old failed to survive internal injuries. It is not known whether it was suicide or an accident. Police said Wanjiru's wife came home to find him enjoying the company of another woman; a confrontation occurred which saw him locked in the bedroom. This circumstance eventually saw him leap or fall. He already had a stormy relationship with his wife. In December he was charged with threatening to kill her, assault and the illegal possession of an AK-47 assault rifle. She subsequently withdrew the accusations, saying they had reconciled. However, Wanjiru was due to appear in court eight days later on the charge of illegal possession of a firearm.
- Andrew Alderson
Tom Simpson
Images of Simpson zig-zagging his bike uncontrollably in the 1967 Tour de France, moments before collapsing and dying on Mont Ventoux are among the most haunting in sport. The mountain is one of Le Tour's toughest rides.
The average gradient of 7.5 per cent reaches 12 per cent at times on the 21km climb. Added to that were July temperatures estimated at 54 degrees, making Simpson's mission impossible.
Simpson was Britain's top road cyclist at the time - a world champion from 1965 - famed for his ability to ride to the point of exhaustion. This time the 29-year-old rode beyond exhaustion, in the vain hope his rations of four little bottles of water - plus the amphetamines and alcohol found in his bloodstream - would see him through.
Instead he found oblivion. Tragically, team-mates rode past the collapsed cyclist thinking it was just another day where Simpson had spent himself in pursuit of victory. A memorial lies near the summit where fans leave tokens of remembrance.
- Andrew Alderson
Ayrton Senna
In 1994, Senna was already regarded by many as the greatest driver of his generation - perhaps of all time. He had won 41 races, including three championships in 1988, 1990 and 1991. The Brazilian was lightning quick - his record of 61 pole positions (over 40 per cent of his starts) was only broken recently by Michael Schumacher, who has chalked up over 100 more races - and was a specialist in the wet. At the age of 34, after two relatively barren years by his standards, Senna signed with Williams-Renault and was ready to make a play for the world crown again.
The third race of the 1994 season was at Imola, Italy. During Saturday qualifying Austrian driver Roland Ratzenberger was killed when his car crashed at over 300km/hr; a visibly distressed Senna visited the scene and the next morning drivers agreed to reform the Grand Prix Drivers Association after a 12-year hiatus to focus on driver safety. It would come too late for Senna. He crashed on the sixth lap of the race, hitting a concrete wall at over 200km/hr after the steering column failed and died almost instantly. Half a million people lined the streets in Sao Paulo for his state funeral. With many new safety measures since implemented, he remains the last F1 driver to be killed on duty.
- Michael Burgess
Aaron Hopa
Perhaps in this week of a Rugby World Cup final, it is appropriate to remember hard-hitting No 8 Hopa - a candidate for the 1999 All Black World Cup squad who died during a diving accident in 1998, off the Coromandel Peninsula. In today's structured rugby environment - with players passing through schools academies and age-group teams - Hopa would have been a rarity.
A rubbish collector, with no youth rugby history, he was tall and rangy and tackled like a house falling on you. He was selected after his gritty displays for Waikato for the All Black tour of Europe in 1997 but never played a test - and only made one start in his four All Black matches. But he turned in notable displays for Waikato and the Chiefs and starred in several Ranfurly Shield matches for Waikato the following year. His performance for a beaten team against Otago in the 1998 NPC team was so good he was named in the initial All Black squad for the 1999 RWC - but, tragically, the Coromandel accident came first.
- Paul Lewis
Marc-Vivien Foe
This was a death which reminded us all that even sportsmen, even the fittest, bravest sportsmen, are subject to the cruel ravages of poor health. Foe died on the pitch, aged just 28, collapsing with no one near him - the victim of a heart condition previously undetected and which puts sufferers at risk during physical exercise. If it was a shock death, it was doubly so when you looked at the man himself. A big personality, full of laughter, Foe was 1.88m tall, lean but powerful and a defensive midfielder who covered every square centimetre of turf. He died during the 72nd minute of the Confederations Cup match between his native Cameroons and Colombia. Two of his clubs (Manchester City and Lyon) retired his shirt and Foe's death remains an unwelcome reminder that even the fittest individuals on the planet have no guaranteed claim on life.
- Paul Lewis
Nodar Kumaritashvili
Kumaritashvili's death sent the 2010 Vancouver Games into mourning before the opening ceremony when he lost control in the final turn of the luge course. The 21-year-old was thrown over the sidewall, hitting an unprotected support pole at 143.6 km/hr. Medics were at his side within seconds but that wasn't enough to mitigate the impact of solid steel. The International Luge Federation (FIL) raised the walls in the final curve as a preventive measure, padding was added to exposed metal beams near the finish and the start of the men's luge was moved to the women's starting point to reduce speed. The New York Times claimed officials saw the accident "less as a tragedy than as an inconvenience" and reported them saying changes were "not for safety reasons but to accommodate the emotional state of Kumaritashvili's fellow athletes" - a sure plan to halt the advance of the legal fraternity. The FIL has since called for luge speeds to be limited to around 135km/hr to prevent such an accident recurring.
Kumaritashvili was the fourth winter Olympian to die preparing for competition. A street name and postage stamp have since commemorated his passing.
- Andrew Alderson
Ben Alexander
Like Matt and Kurt Gidley, Andrew and Matthew Johns and the incomparable Walters brothers (Steve, Kevin and Kerrod) the Alexander siblings were headed for double greatness in rugby league. Greg was already an established star when Ben came on the scene. The older Alexander had played for NSW, Australia as well as starring for the Panthers since 1984. Ben made his Penrith debut in 1990 and had began to emerge from his brother's shadow. An effervescent hooker or halfback, he played many times during the 1991 premiership-winning season and, upon the retirement of Royce Simmons, started to make the number nine jersey his own during the next season. He was tipped for representative honours but it was not to be. On the evening of June 21 1992, Alexander was tragically killed in a car accident in Western Sydney. His blood alcohol level was later found to be almost three times the legal limit. He was just 20 years old.
- Michael Burgess
Ben Hollioake
When the England flag was lowered to half-mast during lunch on the third day of the second cricket test against New Zealand in 2002 in Wellington, it didn't take long for the news to filter through - Ben Hollioake had been killed in a car crash in Perth. His Porsche 924 had left a motorway off-ramp, made slippery by light rain, and crashed into a brick wall. He had been about to return to Surrey having spent much of the UK winter with England's one-day squad in Zimbabwe, India and New Zealand. At 24 years and 132 days old, no England test cricketer had died so young. He had already been deemed a one-day specialist, despite his two tests, the first of which at 19 made him the youngest to play for England since Brian Close in 1949. He and brother Adam were also the only English brothers to debut in the same test during the 20th century, in the fifth test of the 1997 Ashes. The England captain, Nasser Hussain, flew from the test series for his funeral while former team-mate Alec Stewart described him as "the most naturally gifted cricketer I have ever played alongside".
- Andrew Alderson