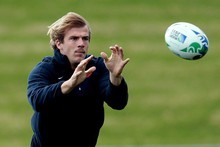 French coach Marc Lievremont yesterday acknowledged that labelling some of his players "spoiled brats" a few days out from the World Cup final might not have been his smartest move of a seriously flawed campaign.
Within an hour, two players had voiced their unhappiness at Lievremont's description and a group of French journalists had walked out of their team's press conference angry at what could be termed a smart alec attitude from a senior player.
Just another day in the life of the French camp as the players prepare for the biggest game of their lives.
After a group of players ignored Lievremont's specific request to lie low after beating Wales 9-8 in their semifinal on Saturday night, the coach let fly.
"I told them what I thought of them," he said last weekend. "That they're a bunch of undisciplined, spoiled brats, disobedient, sometimes selfish, always complaining, always whining, and they've been [frustrating me] for four years.
"It seems to be our way of functioning," he added. "I also told them I have a lot of affection for them, but it's a shame they don't know how to look after themselves."
Yesterday Lievremont, while not exactly recanting his words, conceded his timing and terminology could have been better.
"I said those words to put pressure on them," the former French loose forward said. "When I read my words in the written press I realised I probably could have stayed quiet.
"What we need to do is focus on our solidarity and our aggression in the run-up to this final."
Too little, too late for the players, evidently.
Young second five-eighths Maxime Mermoz felt the situation had been "blown out of proportion".
"Some very harsh words were spoken, but we are thinking about what needs to be done now. We need to respect ourselves," he said.
Mermoz doubted whether the sting of Lievremont's words would provide a major motivation for the players when set alongside other elements but "when you're criticised like this you have to use it to our advantage".
Senior lock, and former captain Lionel Nallet is regarded as a solid senior citizen of the side. He was not impressed with the coach's words.
"I didn't appreciate it at all. I didn't like what he said, but that's just my opinion," he said.
"We already knew the week was going to be complicated enough so perhaps there was no reason to add to that pressure."
That said, he admitted parts of Lievremont's remarks were justified, and "it's not the end of the world".
Nallet said there were "certain things" he was going to use to motivate himself for his 70th test.
"But I don't want to go on about it. We've got a final to play."
Things took an interesting turn around that point. Experienced centre Aurelien Rougerie took a dim view of some questions posed by French journalists.
A reasonable interpretation seemed to be that he thought the questions were ordinary, couldn't be bothered answering them, so resorted to an approach the journalists thought less than thoroughly professional.
At which point about half a dozen pointedly got up and left the room in disgust. Rougerie, one writer opined, was "arrogant".
A senior member of the French media corps made it clear that as a group they are fed up with the attitude of some players.
One said he'd started his career dealing with greats of the late 1970s and early 1980s, such as Jean Pierre Rives and Serge Blanco. He's had a gutsful of dealing with the current shower of players - the implication being most weren't fit to lace the boots of the genuine greats of the recent past.
"We want this to end," he said of the unhappy cup campaign. "This is bloody awful."
So out of chaos a French win on Sunday, then?
By David Leggat

Email

David