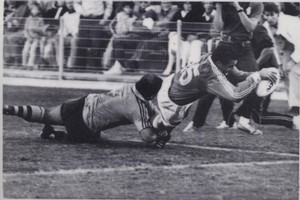 The weird and wonderful history of French rugby is littered with examples of Les Bleus going from the ridiculous to the sublime, and back again.
Last week was a case in point, as Thierry Dusautoir and his men confounded critics by producing clearly the most unexpected performance of the World Cup to date. Brutal but at the same time inspired, intensely physical up front, but with a glorious deftness of touch in the backs, this was French rugby at its idiosyncratic best.
Exactly how the Tricolors managed to bounce back from their pitiful defeat to Tonga one week to blow England out of the water the next almost defies belief. But ever since they walked off the pitch at Eden Park last Saturday, their minds have been set on one thing: proving they can do it again.
France, of course, have been in this situation many times before. Even back in 1987, when Jacques Fouroux's band of merry men beat the Wallabies in that pulsating semifinal in Sydney, they were unable to fire a shot in the final the following week here in Auckland.
Over the 24 years since that historic first final, many of the French players have shrugged it off, saying the Sydney win, against the tournament favourites, was in fact their final, and that by the time they got to Eden Park they were too emotionally drained to get themselves up again.
Exactly the same thing happened in 1999, and again in 2007, when the French camp got swept up in a wave of emotion after knocking the All Blacks out, but then failed to follow up their upset victories with another world-beating performance.
That is why, even after dealing to the English a week ago, les Bleus made a point of keeping a lid on their post-match celebrations. Julien Bonnaire, the flanker who played out of his skin last week, clearly remembers the euphoria of the quarter-final win in Cardiff in 2007.
"But I also remember the disappointment of the way we played the following week in the semifinal against England," he said. "This time, we are determined it's not going to happen again."
Most Kiwis have difficulty understanding the emotional roller-coaster of the French XV. But they should rest assured that all French coaches have struggled with the same problem. The 1979 Bastille Day win at Eden Park, for instance, came only after a loss to Southland in the midweek game, and the 2-0 series win by Philippe Saint-Andre's team in 1994 was preceded by a loss to Canada. As assistant coach Emile Ntamack said this week, if he and his fellow French coaching staff knew exactly what it was that enabled the Tricolors suddenly to play above themselves, they would put it in a bottle and take it on tour with them.
France then face a double challenge in tonight's semifinal: they not only have to overcome an ebullient Welsh side, but they also have to win a victory over themselves. But while it is all very well to pull one game out of the bag by using internal conflict to motivate the players, as coach Marc Lievremont wisely observed early in the week, that conflict cannot be artificially maintained, especially against a Welsh team they have beaten 10 out of the last 13 times they have met.
If the French really want to be world-beaters, however, they have to show that they have more than just one killer-punch in their armoury.
Last week they demolished England because they were angry. Can they get angry again?
* Ian Borthwick writes for L'Equipe, Paris