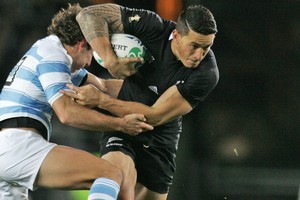 A former Kiwi rugby great winger sees no room for Sonny Bill Williams in the All Blacks' starting 15 for their semi final against Australia on Sunday.
Stu Wilson, who scored 50 tries for the All Blacks, said Wellington specialist Cory Jane and Waikato centre Richard Kahui should be starting wingers for the knockout match, while Israel Dagg should run on as fullback.
Sonny Bill Williams, who played on the left wing against Argentina on Sunday, should be demoted back to the bench, he said.
"Jane is our top winger at the moment. He's the only one doing things with the ball in hand. He should carry on having a few drinks and a few [cigarettes] if it gets him into this kind of form.
"Sonny Bill only got a shot because Kahui was injured."
Jane should pull rank as a "senior professional" to secure his place on the right wing, Wilson said.
There was no place in the squad for winger Hosea Gear, who was recalled to replace injured fullback Mils Muliaina, he said.
"He's a few back from the bus stop. I just can't see [the coaches] going past guys who have played games in this competition to pick him."
Wilson said the play of expected starting first five Aaron Cruden would decide who wins the matchup.
Cruden would need to be composed under pressure to stop Australia echoing Argentina's efforts to disrupt the All Blacks with pressure defence, he said.
"The chaos will only get worse. It just gets worse and worse. We need a 10 who can say 'this is not working, what can we do differently'.
"A 10's got to run the shop."
- HERALD ONLINE