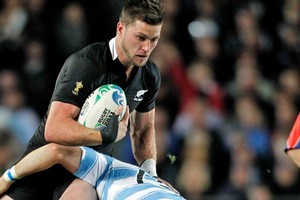 Is there anything Piri Weepu can't do at the moment? He leads the haka, he kicks goals, he controls the tempo and, most importantly, he pull reprobates out of the bar at 1am. You know you've made a noodle of yourself when Weepu's dragging you home with a flea in your ear. This man might just about be the most important cog in New Zealand's badly buckled wheel.
It was a good weekend for halfbacks a very ordinary for first five-eighths. Weepu was the only thing stopping the excellent Mike Phillps making the Team of the Week. Phillips' influence on Wales' commanding 22-10 victory was all-pervasive. His scoot down the blind was the try that ended all Irish resistance.
Wales put in a genuine team effort, whereas Australia won on the shoulders of the remarkable David Pocock. Josh Kronfeld might have been tarred for being a bit ungracious towards New Zealand's beloved leader when he labelled Pocock the best openside in the world. On the evidence of last weekend, he was not wrong.