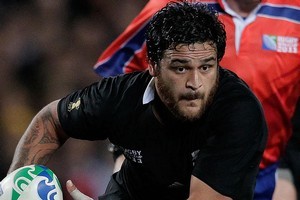 SBlueW.
There's a rumour going around that Sonny Bill Williams has joined the Blues circus. Sources close to the squad say he's signed on, with an announcement due after the World Cup.
Pop quiz
Who would have thought it - an All Black victory built on the goalkicking of Piri Weepu. Until Kieran Read scored in the 66th minute against Argentina on Sunday, the All Blacks were on track for a tryless performance.
Pop quiz: when did the All Blacks last finish a test match without scoring a try?
Jolly fine holiday
England were on a flight home last night. And while Martin Johnson's men might have some regrets about their time in New Zealand, you've got to hand it to them, they didn't let the World Cup get in the way of a good booze-drinking holiday.
Stat of the day
Possession is everything in rugby, right? Maybe someone should tell the Wallabies. In their Wellington quarter-final, the Springboks kept the ball through five phases 15 times during the match - the Convicts didn't manage it once.
Did you hear the one ...
An Irishman, an Englishman and a South African walk into a bar. It's the airport departure lounge ...
Resting, actually
When informing the nation about Colin Slade's injury, All Black doctor Deb Robinson said the lack of rest for players has contributed to the injury toll, as the All Blacks deal with 10 tests in 12 weeks.
Lack of rest? Colin Slade? The guy has been fit for five minutes in the past year and has spent most of the season either wrapped in cotton wool or lying on a physio's table.
Tweeting twits I
Australian flanker David Pocock receives a Twitter message from a South African. "You're a cheating wanker, just like your convict ancestors!" (Pocock's ancestors, as anyone who read the excellent feature by Chris Rattue in the Weekend Herald could tell you, are unlikely to be convicts, he was born in Zimbabwe).
The Aussie flanker takes it in good spirit: "Haha. I've had so many good tweets from RSA fans!"
Er, those aren't fans, David ...
Weirdness winner
Weirdest statement of the World Cup: Bok winger Bryan Habana reveals that fullback Pat Lambie is such a nice guy, John Smit gives him the father-in-law nod of approval.
"Not only is [Lambie] a great player," Habana said. "But he's a fantastic person off the field, as well. John Smit said he's the only player he'd let his daughter go out with."
Tweeting twits II
Bex Murray, a friend of Mike Tindall - not that friend - who sang at the royal nuptials and hung about with the Tindall Stag-Do in Queenstown, showing them a good time - not that kind of good time - needs Twitter support.
She's a country musician - actually, our sources tell us she plays both types of music, country and western.
"Hello everybody, the new criteria for NZ on Air Funding is 1000 followers on Facebook and 500 on Twitter," she tweets.
"Please help me get to that."
All right then, we will.