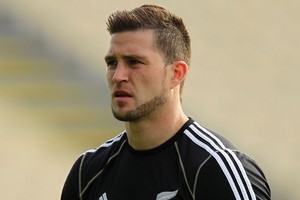 Cory Jane has apologised for his "stupid choice" to go on a drinking binge 72 hours before the All Blacks' Rugby World Cup quarter final match.
The All Black winger and injured teammate Israel Dagg were at the Mac's Brewbar in Takapuna on Thursday night, where stunned bar patrons said the pair appeared to be swaying and slurring their words.
Witnesses said Jane lit a cigarette in the bar - breaking the Smoke-free Environments Act 1990 banning smoking in pubs, in force since 2004.
When police showed up for a regulation check, bar staff "hid" the players in the bar's kitchen.
Last night Jane told media it was a "stupid choice", and spoke of how important it was that he performed well in the All Black's clash with Argentina.
"I knew I had to put in a good performance after making a poor decision the other night and having it thrown all over the paper this morning I knew I had to go out there and play well," he said after the match at Eden Park.
Captain Richie McCaw said the actions of Jane and Dagg weren't great, but had been dealt with.
"I think if we're realistic about putting everything we can into winning this tournament, it is about making good decisions," McCaw said.
Coach Graham Henry described the incident as "not a very good decision, but we've dealt with that and the guys are pretty committed about doing everything they can to win the thing".
"He definitely didn't make a good decision during the week, and he wanted to right that.
"I thought he was outstanding out there, one of the outstanding players."
All Black manager Darren Shand told the Herald on Sunday the behaviour of the pair was hard to fathom.
"They are the ones who are going to face the consequences now because they are going to be known - particularly across the country - as the guys who let the team down."