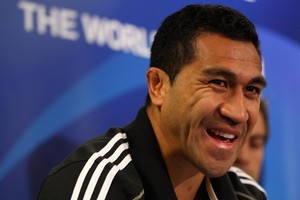 Displaying his special 100th All Black cap will have to wait.
Mils Muliaina will receive his honour after tomorrow's Rugby World Cup quarter-final, but has nowhere to exhibit the memento.
The 31-year-old fullback and his family are shifting to Japan on a two-year deal after the World Cup and the family home has already been sold.
Muliaina pulled the seniority card on comrades Colin Slade and Keven Mealamu yesterday as they arrived for the obligatory media conference.
The fullback shuffled to the edge of the top table, trying to stay a shade out of the limelight.
Of course he couldn't, the questions were mostly aimed at him, but he felt a little more comfortable answering them from the periphery. It was a metaphor for his career.
His work has been front and centre of the All Blacks work since he ran on to the Cake Tin in 2003 as a replacement wing for a few minutes for fellow debutante Joe Rokocoko. But once his work is done, Muliaina likes to ease out of the spotlight.
That evening was also Ma'a Nonu's first test while Daniel Carter and Brad Thorn were to make their All Black debuts a week later in that World Cup year.
Eight years later, Muliaina is about to double the honours list in the All Black test centenary club, becoming the second member after captain Richie McCaw.
There was a three-test stutter before Muliaina regained traction last week against Canada and continued selection for tomorrow's quarter-final with Argentina.
"I suppose it's a pretty special achievement to be able to do," Muliaina said, "given the skip has already done it, I feel pretty privileged and honoured."
He had missed the razor-edge thrill of rugby combat in the last few weeks. Those absences reinforced how much he enjoyed the intensity of test rugby.
Muliaina had been a bit nervous he would miss the chance to hit 100 caps. He knew he'd recover from a hamstring twinge to play Canada last week and wondered if he'd done enough to warrant another burst.
"Thankfully I am going to get out there and make sure I do my job well," he added.
Muliaina is one of only four players in the squad born outside New Zealand. He and Isaia Toeava were born in Samoa, Jerome Kaino was born in American Samoa and Ben Franks in Melbourne.
The 31-year-old fullback moved to Invercargill when he was 2, starred in rugby at high school and won a scholarship to Kelston Boys High School in Auckland. His impressive rugby career continued to rise.
Age-group selection was an annual ritual, and he started Super rugby in 2001 then became an All Black two years later.
He's preparing to head away to NTT Docomo in Japan after resisting tempting offers to leave after the last World Cup. That team failure persuaded him to hang about in the hope of having a final shot at success. He gets on that first step tomorrow at his former Eden Park headquarters.
"There's no doubt," he said, "when I made the decision to stay here, this is what it was for. You know, I was getting on a little bit, still am, but this is the World Cup that I really want to come back in and hopefully do things right.
"I suppose the pain of losing back in '07 has probably eased a heck of a lot but it's four years ago now. We're here now and I can't wait to get out there and play knockout football."