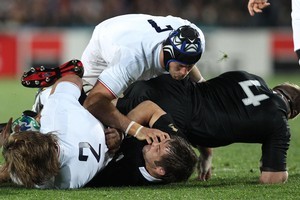 Discipline is costing the French, so they plan to do something about it.
That's right, the French reckon they have been too clean, have strayed too far within the laws of the game to be a threat to the very best sides at the Rugby World Cup.
Specialist defence coach Dave Ellis said his side suffered some major system failures that led to soft tries, some owing to the speed at which the All Blacks were recycling the ball.
"If you look through the competition so far, the French team are the most disciplined at the World Cup," Ellis said. "We're too clean. Other teams are leaving their hands in or pushing at the back of the ruck, doing things to slow things down, and we're just not doing that. We're too clean."
The idea of the Tricolores promoting the angelic face of rugby will amuse those players of yesteryear who have found themselves staring at the sharpened studs of a demented French forward.
The names of Alain Plantefol, Gerard Cholley, Alain Esteve, Eric Champ and Franck Tournaire still resonate among those who had the misfortune to meet them when their malevolent muse struck.
"In the past if you wind the French team up, they'll respond. Over the past decade they haven't done that. We've probably taken it to the other side of the coin and they don't get wound up at all."
Ellis, a Yorkshireman whose background is in league, is not advocating a return to their nut-cracking, manual-eye-examining ways, but acknowledges they might have to add a bit of pepper at the breakdown.
"We've got to get a bit more streetwise," Ellis said. "We've got to turn quick ball into slow ball."
France failed to counter the All Blacks' tactic of turning the ball inside because they became preoccupied with the threat posed out wide. Daniel Carter's inside ball was a particularly potent weapon.
"Some of the players and myself were a bit disappointed in the errors that we made, they were fairly basic errors in a 10-minute period that cost us dearly.
"I think [Tonga] is an ideal game for them to answer a lot of the critics as regards to the aggressive side to our defence and our line-speed.
"What you'll see is the big players will step up the defensive side of their game," Ellis said.
France has appeared on the point of implosion this week, with Damien Traille railing against the embarrassment of being substituted early and Marc Lievremont being, well, Marc Lievremont.
He has made three changes for his side's clash with Tonga. Hooker William Servat returns for Dimitri Szarzewski, Raphael Lakafia starts at No 8 for the first time since the opener against Japan, and Alexis Palisson comes on to the left wing with Maxime Medard moving to fullback.
To the outside world it might appear that the French are muddling their way towards a premature exit, but those who have followed rugby closely know that no team can find magic in chaos as regularly or as spectacularly as France.
Rather than fear a quarter-final showdown with England, as appears likely, the French are ready to embrace a potential match-up with their most hated rival.
With France given a licence to loosen the shackles of discipline, that game is already shaping as a powderkeg waiting for a spark.
Five Infamous Offenders
Eric Champ (1985-91)
There were probably harder players than the France and Toulon flanker, but none who seemed to take as much obvious pleasure in playing on the edge of reason. Champ, with his unkempt hair and all-action style, was made for colour television, where his brand of filth made for compelling, if uneasy, viewing.
Alain Plantefol (1967-69)
Most famous for having the temerity to kick the one and only CE Meads in the head during a test, and dined out on it for years. An enraged Meads proceeded to smack seven bells out of France's excellent No 8 Benoit Dauga in a case of mistaken identity.
Pascal Ondarts (1986-91)
Set the tone for "The Battle of Nantes", France's famous 16-3 victory over the All Blacks in 1986. It is not known whether it was he who ripped Wayne Shelford's scrotum apart, but you can guarantee he would not have been far from the crime.
Gerard Cholley (1975-79)
A former heavyweight boxer, Cholley is most famous for a match in which he laid out four Scots. Even Mel Gibson in his kilt and claymore would have blanched at the thought of taking on Cholley.
Franck Tournaire (1995-2000)
Prop cleared of biting a New Zealander during their famous semifinal victory in 1999, and fingered as the chief suspect in the eye-gouging allegations that came to light after the game. "I didn't say anything after the semifinal because I didn't want to distract from the French performance, but subsequent remarks from my players were of events that have no place in the game," said coach John Hart.