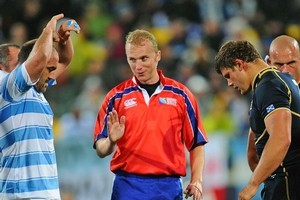 Which referee has impressed you the most during the Rugby World Cup? Has one stood out as the worst at the tournament?
As the Rugby World Cup pool matches come to an end it's not only the teams who get sent packing as the tournament progresses. Roles for referees become limited with just eight matches in the second stage.
Former international referee Kelvin Deaker predicts Allan Rolland and Bryce Lawrence will get quarterfinal roles with either Wayne Barnes, Craig Joubert or Nigel Owens taking charge of the other two games.
Here's how the 10 referees have performed so far. Have your say and vote for the best.
Wayne Barnes (England)
Wherever he goes, controversy doesn't seem too far away. He was in charge of the Wales-South Africa clash with the infamous James Hook penalty attempt that seemed to sail directly over the right hand upright and his latest match between Scotland and Argentina included a possible game turning offside that wasn't called.
According to the Herald on Sunday's Gregor Paul the Englishman fails to make bold calls at the end of games, which suits the IRB.
However he has the lowest rate of penalties were game awarding 17.66 per match.
Romain Poite (France)
Yellow carded Samoa's Paul Williams for not using his arms in a tackle during his side's opening clash against Namibia. Has avoided further drama in blowouts between South Africa-Fiji and England-Romania. Will be in charge of the All Blacks clash against Canada meaning all of his pool matches will likely be one-sided affairs.
Nigel Owens (Wales)
His most high profile match to date was the All Blacks' 83-7 thrashing of Japan. Was in charge of the opening group D clash between Fiji v Namibia followed by Australia's pool C match against United States when he yellow carded American Blaine Scully which was deserved after a deliberate knock-down. Been incident-free.
Alain Rolland (Ireland)
Come under some fire from New Zealand fans after France scored a try from a quick tap while the All Blacks were trying to get an interpretation from the referee. After he handed arguably the biggest pool match - he looks certain to referee knock-out matches. Also was in charge of Samoa-Wales and Australia-Italy. Has awarded the most penalties (71) at a rate of 23.66 per game.
Steve Walsh (Australia)
The former New Zealand referee has the highest awarding rate at 25.5 penalties per game. Was whistle heavy in France's opening win over Japan as well as Argentina's group C victory over Romania. Set to referee France's final group match against Tonga.
Bryce Lawrence (New Zealand)
Not a fan of Wallabies supporters after he made some questionable decisions at scrumtime in Australia's loss to Ireland. Has also controlled high-profile games between
Argentina-England and Fiji-Samoa. Yellow carded English prop Dan Cole after a scrum infringement against Argentina. Will referee Australia again in their final pool match against Russia.
George Clancy (Ireland)
Had the honour of refereeing the opening World Cup match and has been relatively quiet so far. Awarded South Africa 15 penalties against Namibia, and issued a yellow card to a USA player.
Jonathan Kaplan (South Africa)
Stayed out of the limelight in his opening match officiating Tonga v Canada, but made himself noticeable in the next fixture. Kaplan came down hard on the English, dishing out 11 penalties to Georgia in the first half and sent Dylan Hartley to the sin bin as the English infringed while defending their line. Awarded Canada the 78th minute penalty against Japan to deny the Cherry Blossoms victory. Canada's opening try came after Kaplan punished Japan for an early engagement at a scrum. He will take charge of Ireland's last game against Italy.
Craig Joubert (South Africa)
Didn't receive any attention in his first two games, but then controversially sin-binned Russia's Konstantin Rachkov in the eighth minute against Ireland. Joubert sent him to the bin for a deliberate knock-on - the first five-eighth would have stayed on if he had intercepted the pass and dropped it. England v Scotland up next.
Dave Pearson (England)
Had two quiet games before showing yellow cards to two Tongans and a Japanese player. Largely incident-free.
- HERALD ONLINE