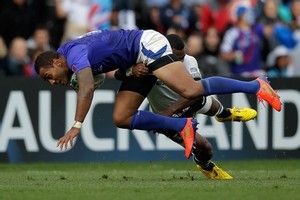 For the 60,000 at the Rugby World Cup match at Eden Park yesterday, the idea of an 80-minute celebration of all things good about Pacific Island rugby sounded pretty appealing.
In fact, for much of Samoa's win over Fiji it was anything but, and veteran Samoan second five-eighths Seilala Mapusua knows why much of the game was a grind.
"It wasn't quite the spectacle everyone was expecting, but it's a test at the World Cup," he said.
"Everyone knows what's at stake. There was more emphasis on playing the percentages, building pressure and accumulating points."
Samoa certainly deserved the win, Fiji being clearly second-best at the scrum and finding it difficult to pressure the Samoan line until well into the second half.
Having made it plain what the Samoan philosophy had been yesterday, former Highlander Mapusua had a different take on what would be required to topple South Africa in their final pool D game at North Harbour next Friday night.
"We need to go all out, really move the ball around, try and get as far away from structured rugby as possible," he said.
"We know how strong South Africa are. They are very clinical at the set piece and building pressure, and they've got a goalkicker [Morne Steyn] who'll slot it from anywhere. We need to break it up a bit."
The drift away from what might be termed expansive, Pacific Island style can be attributed at least in part to the number of professionals based in the Northern Hemisphere. Mapusua called it a maturing of the Samoan game.
First five-eighth Tusi Pisi, nursing his way through the game with a dicky hamstring, put it a different way.
It had been important yesterday that Samoa didn't get "sucked into playing jungle rugby, important we kept our structures and game plan".
Pisi, who kicked four penalties and a dropped goal, is optimistic he'll be ready to play the Springboks.
"I'll ice it, elevate it and see how it goes on Friday. Mate, for a big game like that and the chance for us to make the quarter-finals, any player would do anything."
Fiji were desperately disappointing, unable to retain possession, getting smashed at the scrum and seemingly short on runners with good handling skills and athleticism.
"We felt we failed to fire any shots in the first half," captain and prop Deacon Manu said.
"After halftime we were still in the game, and credit has to go to some of the Samoa defence, the one-on-one tackles and us probably not respecting the ball enough.
"We must have turned it over 20 times in the contact area. If you're doing that you're going to be really struggling to win games."
On the flair issue, Manu said the island nations must not squander that, and he doubts it will be lost to their game.
"If Pacific Island teams want to challenge in the big tournaments, we want to make sure we keep that alive. It's one of our strengths and we probably didn't achieve that today."
Samoa didn't get the four tries they wanted for a bonus point but they'll savour the day.
"It's exhilarating to have won a test against Fiji, but in view of the tournament, four tries would have been nice," assistant coach Aussie McLean said.
Fiji finish their campaign against Wales in Hamilton on Sunday. They are out of the frame for the second qualifying spot in the pool.