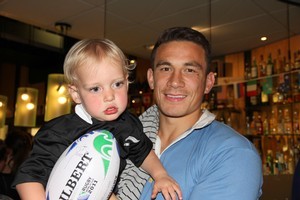 Three All Blacks have set tongues wagging after they were spotted jewellery shopping in Hamilton this week.
Keven Mealamu, Tony Woodcock and Mils Muliaina went to jewellery designer Hart Jewellers on Monday but owner Linley Hart would say nothing about the reasons for the players' visit.
"I can't really say, because it's something to do with jewellery," she said of her chat with the trio.
Mrs Hart said her jeweller husband had previously made rings for All Blacks, Waikato rugby players and other notable sports stars from the region.
"We're famous as far as the rugby guys go."
She would not confirm if diamonds came up in the discussion but said initially the players asked after watches.
However, those hoping for Rugby World Cup wedding bells will be disappointed - the players are already married with children.
The threesome had not visited The Goldsmiths Gallery or Midas Diamond Jewellers but it appears Hamilton-based Muliaina has been showing off his local haunts after the team dined at one of his favourite restaurants on Monday night.
Pumice Bistro Cafe and Deli closed off bookings at its Te Rapa restaurant after the 52-member squad, including coaching and other staff, requested dinner there at Muliaina's recommendation.
The special All Blacks menu included an entree of prawns and braised pork belly, and for mains a choice of snapper, eye fillet, braised lamb or chicken roulade.
Co-owner Ryan Ladbrook said half the room took the lamb.
Mr Ladbrook said the dinner was booked on Saturday night and he and co-owner Dave Kerr were told they could invite a small number of family and friends.
"Dave went a bit overboard and we ended up with 29 adults and 33 children. But they [the All Blacks] were awesome. They were so cool about it all."
After dinner the lucky diners got up close and personal with some of the team, managing photos and autographs for their children.
Joanna Maber said her 4-year-old daughter Maddison was "in love" with Daniel Carter after scoring a cuddle.
"Sonny Bill Williams, Dan Carter and Mils were so gracious."
The trio posed for photographs and signed a rugby ball for Mrs Maber's 2-year-old son Maclaren.
"He [SBW] talked to him and asked if he played rugby. They didn't think they were going to be harassed by all these kids, and they were so nice about it."
Captain Richie McCaw side-stepped the action, though, dodging the other diners.
The dinner was one of three team meals in public so far including one at Turangawaewae Marae in Ngaruawahia on Sunday night, and at Iguana Street Bar and Restaurant in Hamilton central business district on Saturday.