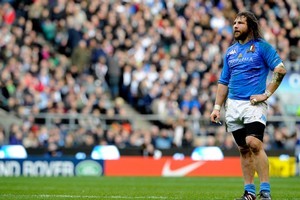 On the face of it, it's simple. Italy - minnows, Australia - mighty; the pick of many to become the first nation to hold the Rugby World Cup three times. But that isn't what this match is about tomorrow.
The coaches of all those teams with World Cup hopes will be watching carefully and will regard with interest what seems likely to be a match where the Australian backs may well cut loose and provide a comfortable victory.
But that isn't what it is about either.
The main focus will go on the forward struggle and Australia's only perceived weakness - their tight five. Coaches and spies from other teams will be watching to see if the Italians can pull loose some threads which could unravel the Australians' burgeoning confidence and give others clues on how to do so further.
The Italians have a strong front row and several quality locks; they play a tight-loose game with a lot of forward pick and drive and hand-to-hand combat.
They are good at retaining the ball through these phases although the picture changes when the ball makes its way into the backs.
The scrum is strong and will be a real test for the Wallabies and their lineout as efficient as one might expect from a team coached by former Springbok coach Nick Mallett - who is investing a deal of emotional capital in his farewell performance. Popular with the players, Mallett has been let go by Italian rugby.
"We want to do it for Nick. Knowing he is leaving will hopefully give us that extra motivation to reach the quarter-finals for the first time. People love to play for him," said big prop Martin Castrogiovanni in a recent interview.
"When you have a coach who believes in you, you play for him. He has passion and heart and that's been transmitted to the team. He says what he means. We may have won more matches under [Pierre] Berbizier, but we play better rugby under Mallett."
Castrogiovanni, in case you have forgotten him, was the hairy monster who severely retarded Wyatt Crockett's All Black career by bending him out of shape like a clown making balloon animals when the All Blacks played Italy in 2009. Crockett - a tall, long-backed prop who can have problems at the scrum set - was embarrassed as Castrogiovanni got away with all sorts of illegitimate scrum tactics which went unpunished by the referee of the day. That led to a burst by IRB referees' boss Paddy O'Brien who then had to apologise himself.
On the other side of the scrum is another fearsome scrummager and mauler, Andrea Lo Cicero and the Italians have good hookers in Fabio Ongaro and Leonardo Ghiraldini and take your pick of troublesome locks Marco Bortolami, Quintin Geldenhuys (a fine old Italian name...), Carlo Antonio del Fava and Cornelius van Zyl. In the loose, they have fine No 8 and captain Sergio Parisse and Mauro Bergamasco on the flank - 32 but still an obstructive/destructive force.
If you're thinking many of the Italian forwards are getting on a bit, you'd be right but the emotional injection of Mallett's departure - and the knowledge that the best way to address the Australians is the way the Italians like playing best anyway - could make this match a little closer than many think.
For a while, anyway. Unless the forwards can dominate and unless Italian defence is really up to it, there is more than a sneaking suspicion that there may be space for the brilliant Quade Cooper to get up to his tricks and get the Australian backline humming.
That's made worse by the Italians' inexperience at 10. Craig Gower was not contracted by an Italian rugby club and instead signed with a Super League club - making him ineligible for the World Cup.
Italian hopes likely rest on Brive's Luciano Orquera and it is not difficult to see Australians making a bee-line for the No 10 channel when they have the ball. Italy's best hope is to keep it away from them.