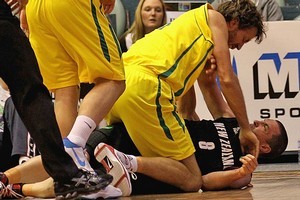 Mark Dickel will be available to play for the Tall Blacks in their must-win Olympic basketball qualifier against Australia on Friday night in Brisbane.
The veteran guard was involved in an ugly skirmish in New Zealand's 91-78 defeat in game one of the three-game series, and was ejected from the match. It was his second incident of a fiery game.
But officials from world basketball's governing body Fiba confirmed they wouldn't be taking further action, making him eligible to play in Brisbane.
The Tall Blacks need to win to keep alive any hopes of earning direct qualification to next year's Olympics. Defeat will mean heading into a difficult repechage against other losing nations just one month out from the Games.
Dickel picked up two fouls for unsportsmanlike conduct in the second half of last night's match. The second was particularly ugly, with the 34-year-old launching at Boomers' player Matthew Dellavedova in the final quarter.
Australia captain Matt Nielsen took exception and threw Dickel to the ground, and players from both sides squared up to each other as tempers boiled over.
Dickel's availability will be a relief, especially as guard Corey Webster had already been sent home for breaching team protocol.
The Tall Blacks will need to improve if they're to upset Australia in the next two games. Mika Vukona and Kirk Penney were excellent, with Penney chiming in with a game-high 30 points, but the pair received little help from their team-mates _ no other New Zealand player reached double figures.
Australia will be confident that if they shut down Penney, they shut down the Tall Blacks.
The Tall Ferns women's team is also scrapping for its Olympic survival tomorrow night. (Friday) They looked like they would be beaten easily when they trailed Australia 43-26 at halftime in game one, but staged an impressive second-half comeback to draw within eight points in the final quarter before losing 77-64.
- APNZ