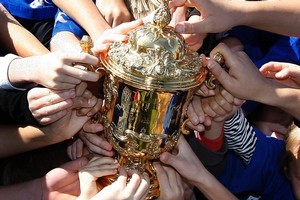 Are you celebrating the World Cup?

Analysts at Forsyth Barr have crunched the numbers and come to the inescapable conclusion - the All Blacks are more than twice as likely than their nearest rival to win the Rugby World Cup.
But if the tournament does not play out according to probability, New Zealand investors can at least cling to some cheer that their sharemarket has been the best performer among the 20 competing nations for the past three years, according to the research.
The analysis is contained in Forsyth Barr's cup guide to clients and used five different methodologies to assess the probability of each nation winning the tournament, which kicks off at Eden Park on Friday.
Those measures were: The International Rugby Board official rankings, the past 30 years of international rugby performances, past performances at World Cups, odds offered by the TAB and a survey of Forsyth Barr's investment advisers.
Head of research Rob Mercer said the rugby project was a labour of love for staff in down time during the past company reporting period, a busy time for analysts and advisers.
The analysis has been weighted to favour predictive models over historic models and concludes the All Blacks have a 43 per cent chance of winning the Webb Ellis trophy on October 23.
Australia has a 21 per cent chance, South Africa 16 per cent, England 8 per cent and France 6 per cent.
A predictive tool was devised to determine probability based on head-to-head odds. "The tool takes into account the draw and determines the probability of each team qualifying first or second from their pool and then progressing through the rest of the tournament," the research says.
By IRB rankings the All Blacks have a 50 per cent chance of winning, followed by Australia on 18 per cent, South Africa on 11 per cent, France on 8 per cent and England on 4 per cent.
The picture's almost as rosy going by head-to-head results of participating countries dating back to 1980. Here the All Blacks are on 44 per cent followed by Australia on 23 per cent and South Africa on 17 per cent. England and France trail on 7 per cent.
There's a change of tone when it comes to past World Cup performances, although home advantage will bump up the chances of Richie McCaw holding up the trophy.
"While form and New Zealand's rugby pedigree are encouraging ... every rugby follower knows that when it comes to the Rugby World Cup New Zealand is an underperformer."
Based on past cup performances the All Blacks trail South Africa and Australia with just a 17 per cent chance of victory but this is bumped to 20 per cent taking into account home advantage.
The TAB late last month had the All Blacks' odds of winning at 54 per cent after they were adjusted to take into account bookies' profit margins.
Forsyth Barr's advisers are the most optimistic about a home team victory, putting it at 62 per cent, ahead of Australia on 17 per cent and South Africa on 8 per cent. "Whether this is home bias coming through or not, only time will tell," the report says.
Besides scoring well on the sharemarket comparison, New Zealand also fares well in other data. It has the second best sovereign debt rating behind four other countries, and the fourth best debt-to-GDP ratio.