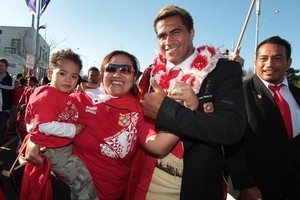 You had to feel for Tonga's sibling captain and coach team of Finau and Isitolo Maka.
After a humbling and chaotic welcome to New Zealand that literally stopped traffic, they attended a church service in Epsom, but that spiritual elevation came crashing back down to earth at a press conference they would have preferred to skip.
There they discovered they had already been reduced to the role of pantomime villains at the World Cup opening.
They're clearly used to that. Rather than the celebration of Pasifika rugby the World Cup opener should be, the match is instead being painted by some as an exercise in injury avoidance for the All Blacks.
Asked to comment on All Black prop Ben Franks' assertion that he'd be happy to take a punch in the face if it meant his opponent missed part of the World Cup, captain Finau Maka had the good grace to laugh before saying: "Those days of Tongan rugby are long gone. Our forward pack now is much more disciplined.
We've all played overseas."
The No 8, who played for Toulouse in the French Top 14, even said most of his pack were good enough to play for the All Blacks.
"The three Pacific Island teams like to play a physical game. We're going to take the game to the All Blacks on Friday and see if they can stop us."
Isitolo Maka acknowledged that Tonga's strength was contact and tackling in particular, but they have no reason to apologise for that. In fact, Maka the elder alluded to the fact that strength could sometimes hold them hostage.
He has seen Tongan teams go out too hard trying to live up to the reputation of being big-hitters, only to tire badly in the second half.
Then there are the refs.
"That's a big worry for me now. Sometimes you get two countries and the referees are just watching one team, one side making big tackles, but fair tackles. That's the worry for us, that the ref will just concentrate on us."
Tonga come into this tournament with little expectation of progressing out of a pool that contains rugby heavyweights New Zealand and France. Their recent form in the Pacific Nations Cup - where they lost to Japan, another Pool A opponent - and a subsequent selection row involving former captain Nili Latu also did little to inspire confidence outside the kingdom.
"For me, it's quite realistic [to make the quarter-finals]," Finau said. "I'm confident that with the team we have we can beat anyone. We're up there with the best teams."
The past three weeks' training in Tonga had been invaluable, said the 34-year-old captain.
"Every day I feel we're getting stronger as a team. It's quite important when we come up against the best team in the world, the All Blacks, we have to be at our best."
There's no suggestion they will rest key players on Friday to keep their powder dry for what most would consider more "winnable" games.
"We don't get many chances to play teams like the All Blacks or France, so we have to try to make the most of it," Finau said.
They have thousands of expectant Auckland-based Tongans to please as well. The brothers were understandably humbled by the crowd, estimated to be more than 6000, that was at the airport.
"For me, it made me really proud to be a Tongan," Finau said. "Just seeing the Tongan community, I actually thought we were landing in Nuku'alofa. It was awesome to see."