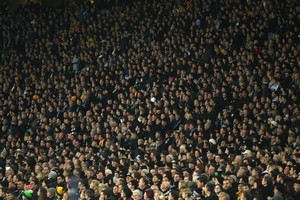 Premium tickets have been freed up for the highly anticipated All Blacks versus France match, and many more big Rugby World Cup match-ups still have seats available.
With a month to go until the tournament, fans can pick up tickets for all of the matches except the final on October 23.
Yesterday a small number of Category A tickets ($460) were released for the All Blacks' biggest challenge of the pool round, against France.
Rugby World Cup communication manager Mike Jaspers expected tickets for the match to disappear quickly.
"We're talking hundreds, not thousands of tickets - a very limited amount."
More Category C tickets have also been released for the All Blacks' match against Tonga and for Australia versus Ireland at Eden Park.
Mr Jaspers said officials were able to reassess the number of tickets available after Saturday's Bledisloe Cup test; the game gave them a more accurate idea of how many people Eden Park could accommodate.
In the last game before the September 9 kickoff, the stadium hosted 53,000 fans - the largest crowd at Eden Park in 55 years.
Tickets which until now had been kept for stakeholders, would be released.
Travel agencies and other commercial groups had also been returning unsold tickets to organisers.
New Zealand, Samoa and South Africa games have been the quickest to sell. The match between reigning champions the Springboks and Samoa is likely to sell out North Shore Stadium, with only Category A tickets remaining.
"Samoan games always sell really well in Auckland. And all their games would've been helped by their win over Australia," Mr Jaspers said.
New Zealand-Japan at Waikato Stadium and Argentina-England at Eden Park were also running out of seats.
Mr Jaspers said ticket sales were well on the way to the target of 1.3 million, having passed 1 million in July.
Sales momentum had picked up in small centres due to the World Cup roadshow and interest had risen further after Saturday's Tri-Nations match between New Zealand and Australia.
"We're very happy with ticket sales. And we've still got plenty of interesting match-ups on offer," said Mr Jaspers.
The only sold-out match so far is the final, with all 60,000 seats claimed. All of Eden Park's cheapest tickets in the towering temporary stands have been snapped up for one semifinal, which could feature the home team.
Only Category A and B tickets remain for New Zealand's game against Japan at Waikato Stadium.
Of the smaller venues, Napier's McLean Park is expected to have a bumper crowd for France against Canada, with only the most costly tickets remaining.
A comprehensive, updated guide to ticket sales will be released by Rugby World Cup officials this week.