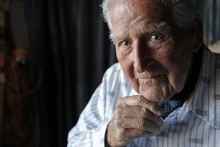 New Zealand's oldest living All Black, Sir Frederick Allen, is famous for his role as captain and the team's only undefeated coach, but little is known of his wartime exploits. In a new book, the 91-year-old speaks for the first time about his time as a lieutenant in World War II.
Fred Allen doesn't much like to talk about the war - he says old soldiers don't. But they think about it often and never forget what they have seen.
Every battle, every dead comrade and the many lucky escapes are etched in the mind of this soldier, who believed it was his duty to go to war even though he was too young.
Like so many, he fudged his age so he could enlist. "I raised my age by a year to 21," he says. "My mother, Florence, wanted to stop me; she was actually going to report that I wasn't 21 but, in the end, she gave up and let me join when I was 20."
Sir Fred admits it might not have been the smartest thing to do but it was a decision he never regretted. His time as a soldier gave him the strength of character and skills needed to lead and coach the All Blacks - skills he says he has never forgotten.
"You go there to do your job, for freedom of speech and for your country. I never went to see the world, I never thought about travelling. Some went away thinking it was going to be different but, I tell you, war is not fun."
Kiwi soldiers were especially good at "just getting on with it", even when conditions were physically and mentally tough and when faced with the horrors of war.
"It all sort of happens and you think of the blokes beside you with their heads blown off, but you know you have to push on. If a Kiwi platoon lost a leader, another would step up. We were different to other soldiers."
Sir Fred was seriously hurt and injured at various times but tried, when he could, to ignore his injuries and lead his platoon.
At one stage, he was shot and a fragment of shell pierced a hole through the back of his neck, just missing his spine.
Instead of having the injury treated, Sir Fred asked the doctor to plug the wound with sterilised gauze so he could lead his platoon on an important mission.
"We had been selected to go out and I thought, they are not going to go without me."
When he returned, doctors found the wound had healed over the shell fragment.
Another time, a rare fumbled pass saved Sir Fred's life. "I was about to have a shave and I had my bag on the front of the tank," he remembers.
"I asked the tank commander to throw it down and, as he threw it down, I missed it. When I went to pick it up, a shot got him. I got one in the shoulder.
Had I been standing up I would of been cut in two."
He spent time in Italy recuperating in an Italian hospital and was looked after by "lovely nurses".
Co-author of his book, Alan Sayers, a close friend of Sir Fred, says the rugby great is a reluctant hero.
"Getting war material from Fred was like pulling teeth," Sayers says.
"I would find things out from the war department in Wellington and only then would Fred tell me about them. He is a very modest man."
Although Sir Fred is guarded about sharing war memories, he is outspoken about what is missing from the modern game of rugby.
In his day, Sir Fred played 21 matches for the All Blacks as first five-eighth and all as captain, including six tests.
He was also part of the triumphant "Kiwis" army team that played 33 tests in Britain in 1945 and 1946.
But it is his time as coach - without a single defeat in 37 international games - that makes him most proud.
Nicknamed "The Needle", Sir Fred puts his success down to the discipline gleaned in the 27th and 30th battalions.
"There was tremendous comradeship in the army and I'm convinced that helped me later in life, in business, football and coaching.
Knowing how to get the best out of individual players was fundamental.
"I used to needle blokes a wee bit - give them a bit of a stir in an indirect way.
"Some people you give them a pat on the back, some you give a root up the tail to get them doing the things you want them to. I think a lot of it is man-management."
Being good mates by the end of the game is important and helps make a great team, something he thinks is lacking in modern rugby.
"I feel the real friendship has gone out of rugby and out of sport.
"They don't seem to have the same dedication to win, it's just different."
He suspects players driven by the incentive of money and sponsorship deals, rather than the honour of playing for their country, has a lot to do with it.
"The gear and publicity they have is unreal. I'm not saying they shouldn't have it but, I mean, it was like some of our gear was cut out with a knife and fork."
"It's a game where there are 15 people in it. You're not the one person who is making all the play.
"Team spirit is very important. It's important in life, whether it is work or family or sport."
AN UNTOLD TALE OF BRAVERY
Apart from being an All Black great, Sir Fred Allen was an NZ infantry lieutenant, a member of an American unit sent on a dangerous mission and a platoon leader who broke ranks to rescue 11 comrades from a Japanese ambush. In this edited extract from a new book, Fred the Needle: The Untold Story of Sir Fred Allen, the uncompromising toughness needed to make a great rugby player and coach is evident in Sir Fred's war effort.
Edited extract reproduced from Fred the Needle: The Untold Story of Sir Fred Alan by Alan Sayers and Les Watkins, with permission from Hachette New Zealand published by Hodder Moa, $49.99, available from Tuesday.
With the enemy now on its very doorstep, the future of Australia hung perilously in the balance - and with it the fate of New Zealand, whose population, because of wartime censorship, was completely unaware of the gravity of the situation.
After serving in Guadalcanal, where some of the war's bloodiest fighting took place, Fred's unit was transferred to the island of Vella Lavella, the scene of terrible slaughter before it was recaptured by Allied forces.
During one daylight attack, a fragment from a Japanese shell punched a small hole clean through the back of Fred's neck, missing his spinal column by little more than a centimetre. It came close to leaving him permanently paralysed.
Fred's platoon, of which he was the leader, had been selected to join an elite American commando unit on a particularly hazardous raid, one he was determined not to miss because of the wound. He asked the army doctor, a close friend, not to report the injury.
He inserted a plug of sterilised gauze through the hole in Fred's neck and gave him the okay to proceed.
The mission to New Guinea's Green Island, formerly called Nissan Island, just south of the equator, began at midnight on January 30, 1944, as the commandos, their faces darkened with special green paint, climbed down rope ladders on the side of an American destroyer. Waiting below were American landing craft assigned to take the raiders to secluded beaches inside the island's lagoon a mile away.
There was a huge swell running and, without warning, one of the landing craft bumped into the side of the destroyer. One of Fred's mates, who was first man down, was trapped between the two vessels. The hapless soldier screamed in pain as both his legs were crushed. He was lifted aboard the destroyer by members of the crew and carried below to the vessel's surgery, where his legs were later amputated. It was not a good start to such a stealthy operation. But the Japanese had neither heard nor seen them and the commandos waded ashore without incident.
Commander J. M. Smith, searching the coastline through binoculars, picked up the outline of a camouflaged barge hidden under overhanging branches and decided to investigate. As his landing craft touched the sand, Japanese waiting in the undergrowth only a few feet away poured machine-gun fire into the craft. In seconds, 50 per cent of the occupants were either killed or wounded. Commander Smith, although wounded, took the dead coxswain's place and, after two agonising attempts had failed, retracted the boat from the beach.
On the stroke of midnight, the destroyers emerged from the darkness and the tired commandos scrambled aboard, their mission accomplished.
Lieutenant Allen was involved in another dangerous mission while on Vella Lavella - the rescue of a fellow platoon commander who had been ambushed in dense jungle with 10 of his men. A radio message had been received that Lieutenant "Baldy" Howitson and his men were hiding in thick undergrowth, having succeeded in beating off the enemy. Desperately short of ammunition, the trapped soldiers had little chance of surviving a second Japanese attack, which would certainly come after nightfall.
While his superior officers were deciding what action to take, Lieutenant Allen realised immediate action was essential if they were to reach the trapped soldiers before darkness fell. He led a squad of his own men through a mile of jungle, so dense that little daylight could penetrate the canopy above their heads, to reach their 11 comrades. An hour into their journey, the increasing number of Japanese corpses showed them they were nearing their objective.
Having made contact with their comrades, some of whom had been wounded, they handed over the boxes of ammunition they had brought with them before setting out on their return journey.
When questioned by the authors about his motivation for this rescue, all Fred Allen would say was: "Well, Baldy Howitson was a friend of mine."
Anxious to serve his country further, Fred joined the famous New Zealand 27th Battalion which had already performed meritorious service in Crete, Greece, the Western Desert and Tunisia. He served some time in the Middle East before the battalion was deployed to Italy and it was during this campaign that Fred had his second close brush with death.
His unit had just captured the Italian town of Villa Fontana as it fought its way north. During a pause in the fighting, Fred asked a tank commander to throw him his haversack, which was on top of the tank. The commander threw the bag but Fred missed it, and had he not done so he would have been cut in half.
It was the one pass in his entire life he was thankful he dropped. As he stooped to pick up the bag a German 88mm shell burst close by. The tank commander, killed instantly, fell on top of Fred as he was bending down. The side of the tank inches above Fred's stooping body was sprayed with deadly shrapnel, some of which ripped into Fred's shoulder and down one side, knocking him unconscious.
He was taken to a field hospital to recover from his wounds before being sent to Rome to recuperate. By the time he was fit enough to rejoin his unit, the war was almost over.
By Kirsty Wynn