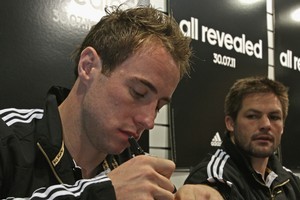 All Blacks halfback Jimmy Cowan took great delight in pocketing $100 from his skipper Richie McCaw after Southland wrested rugby's Ranfurly Shield off Canterbury for the second time in two years on Saturday.
Cowan, in camp with the All Blacks ahead of Saturday's Tri-Nations test against South Africa in Wellington, had already collected his wager from Canterbury's McCaw, while first five-eighth Colin Slade had yet to cough up the same amount and Cory Jane also lost a side bet with the Gore-born 29-year-old.
Cowan, who starred in Friday's 60-14 test win against Fiji, said McCaw was less than pleased to stump up with the cash after Southland first five-eighth James Wilson kicked a late drop goal to claim a 22-19 win at Rugby Park in Christchurch.
"He didn't like handing that over at the airport," he said. "It was very pleasing to see Southland get a win after two disappointing losses - it was amazing to see that.
"It was very good coming down to breakfast this morning reading the Sunday papers with a big picture of Whopper [Southland captain Jamie Mackintosh] on the back holding the shield."
Southland lifted the shield for the first time in 50 years in October 2009, beat Saturday's opponents 9-3 to send the deep south into raptures, and they successfully defended it five times last season, including three nail-biting wins over national provincial opposition, before the red and blacks recaptured the Log o' Wood.
Cowan, who played an integral role in their shield run, hoped the win would go some way to getting the union back to where it needed to be after some tough financial times.
"It's very hard as a player to go through that in the media when you're getting trouble as a union especially when the likes of Jamie and myself have grown up there as local boys. It was a tough time for both of us.
"It is just pleasing to see them get a result like that last night after a lot of hard work from where they've been over the last six to 12 months," he said.
"It's a start point, so hopefully they can kick on and get some credit back down there."
He said everyone was finding it tough going in Southland, but was optimistic the shield win would give the region a much-needed shot in the arm. "As players we're doing our best to pull the crowds in and try and get some of the money back in. Hopefully we'll see a great crowd there next week when they host Counties."
Southland's Shield defences:
* Friday, 6.05pm v Counties Manukau
* Saturday, August 13 v North Harbour
* Wednesday, August 24 v Taranaki
* Sunday, August 28 v Bay of Plenty
All matches at Rugby Park, Invercargill
- NZPA