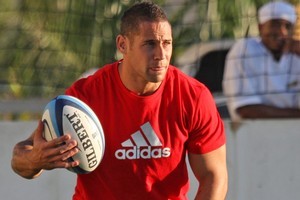 Luke McAlister's rugby future remains unclear after failing to turn up to North Harbour training before seeking an early release from his NZRU contract.
A week ago McAlister was still a chance to make the All Blacks' Tri-Nations squad; but yesterday he was dumped by North Harbour for the opening national championship game in Dunedin tomorrow night.
McAlister was omitted from Harbour's squad for the trip south after failing to turn up to training on Monday and yesterday.
According to his father Charlie, McAlister missed training because of his ill son.
"Luke didn't make training on Monday for a reason that we are aware of, which is to do with his son who has been very ill," he told Radiosport.
"He was born with a pretty serious heart condition and in the last couple of weeks it been really tough on him and his father Luke.
"It's been a hell of a time in hospital the last 10 days in particular in large time blocks.
That's the reason he wasn't there on Monday."
However NZRU CEO Steve Tew confirmed on Radiosport today that McAlister is seeking an early release from North Harbour to ready for his new three-year deal with French club Toulouse.
"It's a pretty messy situation and one that we'd certainly prefer to see avoided," Tew said.
"When players sign contract they expect us to deliver on our side of the contract as you would imagine we'd expect the same."
Harbour coach Liam Barry, in his first year as head coach, was mystified by the 27-year-old's non-appearance, and unimpressed.
"All players in the Super 15 knew they had to front in this unusual, congested year on the 11th [Monday]," Barry said yesterday.
"All our Blues players have done that, and Ben Afeaki from the Chiefs was here on Monday. It's pretty simple. That's what you expect from professional footballers."
There was no warning the 30-test first or second five-eighths would not be turning up.
But Barry said they would like to have chosen McAlister, who missed the Tri-Nations squad named on Sunday, and almost certainly is gone from World Cup contention.
However, the rules apply equally to everyone in the squad.
Barry was coy on how the slate would look should McAlister reappear when the squad returns to the North Shore on Friday.
"We'll have to discuss it," he said.
"You just can't have someone who is not committed to the programme. If you're not keen you're not there, are you?"
Later in the day, North Harbour chief executive Brett Hollister joined in, maintaining McAlister is still part of the cup squad despite having gone walkabout this week.
"Luke has signed to play for the team for the ITM Cup campaign, and is expected to remain part of the 2011 squad," Hollister said.
In McAlister's absence, Ben Botica will partner new captain and halfback Chris Smylie behind the scrum, with Brendon Watt at second five-eighths.
Harbour, who are in the second-tier ITM championship group of seven teams, are welcoming back some old faces this year, notably outside back, and four-test All Black of 2008, Rudi Wulf.
Wulf, who has returned from Toulon, will add some class and is lining up at centre this year.
Flanker and vice-captain Brent Wilson has returned after six years away playing at Newcastle in England, while solid Bay of Plenty flanker Solomon King has shifted north to increase the grunt factor.
Veteran Willie Walker is another back in the colours after 10 years away and there's pace and talent further out from the likes of Fijian flyer David Raikuna.
Harbour's perennial problem is failure to turn potential into something more tangible.
A Harbour man of old, Barry knows it, and so does the new skipper.
"There's a lot of words you can come up with, like unfulfilled potential and so forth over the last few years," Smylie said.
"We can say so much, we're going to do this or that.
"But at the end of the day actions speak louder than words."
Otago's lineup contains some familiar faces, with ageless Tony Brown running operations at No 10 and fellow former All Black Kees Meeuws - 37 in a couple of weeks - still rolling along in the front row.
Former Auckland back Ben Atiga is at centre while Harbour players can reaquaint themselves with former teammate and flanker Regan Tamihere. He has pitched up in Dunedin this season, along with former Hawkes Bay midfielder back Sam Giddens, while in-and-out All Black lock Tom Donnelly is a man armed with every incentive with a World Cup squad still to be named.
The game kicks off a hectic competition, which involves 72 games in just 51 days.
Rugby junkies will feel sated with games every night of most weeks other than Mondays, which the diehard fans will use for their version of weekly rest and recuperation.
Carisbrook, 7.35pm tomorrow
OTAGO
Glenn Dickson
Joe Hill
Ben Atiga
Sam Giddens
Buxton Popoali'i
Tony Brown
Sean Romans
Gareth Evans
Eben Joubert (c)
Regan Tamihere
Tom Donnelly
Daniel Ramsay
Kees Meeuws
Jason Macdonald
Halani Aulika
NORTH HARBOUR
Codey Rei
David Raikuna
Rudi Wulf
Brendon Watt
Nafi Tuitavake
Ben Botica
Chris Smylie (c)
Mat Luamanu
Brent Wilson
Solomon King
James King
Chris Smith
Ben Afeaki
James Parsons
Michael Reid
Otago: Liam Coltman, James McGougan, Scott Manson, Rob Verbakel, TJ Ioane, Johnny Legg, Jayden Spence, Matt Faddes.
Harbour: Michael Mayhew, Taione Vea, James Afoa, Irwin Finau, Scott Uren, Luke Hamilton, Willie Walker, Ken Pisi.
- Additional reporting by Herald Online