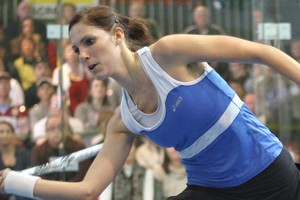 Squash is trekking down a familiar road as it bids to get a place on the Olympic Games programme in nine years.
The sport tried to get a spot for both the 2012 and 2016 Games. The first time it was one of the last two, when the International Olympic Committee had two places open before changing its mind and closing the door.
Golf and rugby sevens won the two available places for Rio de Janeiro in 2016.
New Zealand player Jaclyn Hawkes is now president of the women's international squash players' association, and on the World Squash Federation board.
She is optimistic that this time, with a better-planned bid, squash will get across the IOC line for 2020.
"We expected to be in this group of eight and it's now where do we go from here," she said yesterday. "We're launching a comprehensive bid and want to give ourselves the best chance we can."
World No 17 player Hawkes believes squash fell down when vying for a place in the 2016 Games through not being sufficiently organised.
The sport is well aware of the two problems it had to overcome: making it better viewing on the glass courts, and improving it as a television spectacle.
"The [men's] Professional Squash Association and Wispa have invested a large amount of money on the TV angle and really improved it dramatically. It looks so much better," Hawkes said.
With badminton and squash on the Olympic programme, there is also an argument that the Games are well off for racquet sports.
Hawkes acknowledged the point, but believes squash is not alone from that perspective.
"It's the same problem the martial arts are having. Judo and taekwondo are in, karate and wushu are trying, so it's definitely a consideration."
Of the other seven contenders, roller sports and karate were on the shortlist for 2016, but baseball and softball were voted off for next year's Games in London and attempts to overturn that, and gain reinstatement for 2016, failed.
Sport climbing, wakeboard and wushu, a Chinese martial art, are first-time contenders for the Games.
Hawkes has the chance for a rare square-off against fellow top-20 player Joelle King, ranked No 14, in the final of the national championships in Hamilton on Sunday, assuming neither suffers what would be a surprise defeat before the final.

"It's pretty friendly between us. I'm happy if she wins, but obviously I'm happier if I win," she laughed.
EIGHT INTO TWO
* Eight sports are vying for two spots on the 2020 Olympic Games programme - squash, karate, roller sports, wakeboard, sports climbing, wushu, baseball and softball.
* Four eliminated from consideration this week are netball, surfing, tenpin bowling and dance.
* A decision on whether to further cut the list will be made early in 2013 by the IOC board with the final vote later that year.