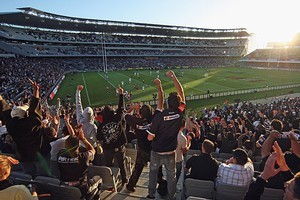 Time for some straight talking about Eden Park. Gregor Paul's controversial piece last week set off the whole stadium thing again with some tiresome souls going on and on about how we missed a trick with the waterfront alternative.
Spare me. Have we all such short memories and poor logic? There are two parts to this problem - Eden Park and its shortcomings and the political mirage that was the waterfront stadium. Martin Snedden has responded to Paul's criticism (see story p84) but it was never Snedden's doing - nor his problem. He has been as stuck with Eden Park as the rest of us, after successive Governments declined to pay the price of a proper modern stadium.
The old girl has been improved. She looks better, more imposing and has better systems and facilities - but is still a random collection of stands as opposed to an integrated style and design, as is common overseas. The prospect of people getting wet while sitting in the newest, flashest stand after having paid $460 for tickets doesn't bear thinking about.
I, incidentally, am one of those people - two tickets and $920 later, I'm still not sure if I'll get wet or not.
A world-class World Cup stadium? For at least one list of reasons why not, just read Alex Curtis' letter on this page. Then have a think about why people don't go to the Park in such profusion any more.
So why is Eden Park regarded by some people - possibly even many - as a "dog" (Herald on Sunday, June 26)?
Think back to when the Park was first mooted as the World Cup finals venue. In 2006, we were told Eden Park's upgrade would cost $320 million. The waterfront stadium? $500m.
Even if you believed that a major stadium, capable of hosting a World Cup final, could be built between two wharves - causing God knows what engineering problems, delays and inevitable cost overruns - for that price (as opposed to the $700m-$1 billion many judges estimated), there remains the question why the Government wouldn't pump that amount of money into Eden Park.
According to the Labour Government of the day, that was because a waterfront stadium was a "national stadium" whereas Eden Park was a "regional stadium". Taxpayers' money would have picked up the entire tab for the waterfont but not for Eden Park.
Have you ever heard such bunkum? Translated, this means Helen Clark and Trevor Mallard were prepared to use the national coffers to erect a monument to themselves, but not if it meant properly tarting up the Old Dame - next to whom, incidentally, Clark lived before she headed to the UN. The National Government also haven't stumped up the cash to do Eden Park properly.
So what we've ended up with is a camel - a horse designed by committee. Unwilling to spend what should have been spent at Eden Park, we have spurned our noses at Manolo Blahniks and have bought a pair of Ug boots instead.
Some people (I can recall a letter from one Tony Waring from Mt Albert) took me and fellow columnist Kerre Woodham to task for daring to suggest in previous writings that we should accept the financial losses and enjoy the World Cup.
"What they don't seem to acknowledge is that when you are one of the world's smallest countries, the impact of such huge financial losses has a far bigger effect than if you have a population the size of the UK, India or South Africa," wrote Waring. "Our politicians suffer from delusions of grandeur. We are a small country and we don't have a spare half billion to throw at a sports event."
Where was all this protest when the World Cup hosting rights were won? Never has there been a World Cup in any sport that made money. Aside from the 1984 Olympic Games, the same can be said for the world's premier all-round sporting festival.
The estimate of RWC's $500m deficit was specious at best; mischievous at worst. It's all very wise to win the rights and then bleat that it's costing too much. Anyone with half a brain knew that at the start; had to raise their objections then.
Hey, Tony - want to know how much India lost on the Delhi Commonwealth Games? Or how much South Africa dropped on the Fifa World Cup? Both countries have many more people below the poverty line than New Zealand. The cost overruns for the 2012 London Olympics have already reached a shattering size and may not be fully unravelled for decades.
One columnist spluttered how Eden Park will be a white elephant after the RWC. He showed his credibility by calling former NZRU chairman Jock Hobbs 'Jack' and wittering on about the cost of the Quebec Olympics in 1976. Actually, it was Montreal.
Whatever else you can call Eden Park, a white elephant it ain't. Test rugby, Super Rugby, provincial rugby, league, one-day and Twenty20 cricket will be played there. That columnist clearly wouldn't know what a rugby ball was if it bounced off his bow tie and exploded among his art collection.
But don't worry - this will be the last time New Zealand will ever host a Rugby World Cup or probably any major sporting carnival. That's why people, even the sporting grinches, should enjoy it; help to offer a hosting experience that our infrastructure may not.
Eden Park could have been the perfect stage, or almost perfect, accepting some of its shortcomings (like transport) would likely continue to be issues. Both Governments could have picked up the tab for Eden Park and ensured its place in the future. However, political expediency, the sort of penny-pinching and cultural cringe that a "small country" should not dare to dream has given us a Lego stadium for future ages.
There are reasons beyond short-term accounting for hosting World Cups. A legacy to future generations is one; where the financial cost of a credible venue is amortised over generations of use and approval; just like the current Eden Park has done in the past.
How like tiny-minded New Zealand to stuff that up.