Put on your cycling shorts or football boots and have some quality family time. By Diana Clement.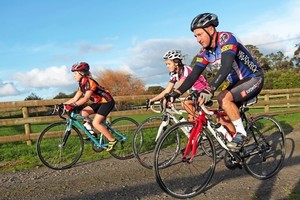 Family time doesn't always need to involve sitting around a dining table or playing board games. Getting fit with the children is a great way to foster togetherness. It also keeps parents young and children exercising in a world where it's easy to become sedentary.
Tennis
Tennis is a family affair for the Lawrence family of Stanley Bay. Mum Tracey and dad Stephen and their four sons play at the local Ngataringa Tennis Club, four minutes' walk from their home, all year round.
"The boys play competitively and they like me to take them down individually or in a pair to help them with their training," says Stephen. "The nice thing is that it gives me good focus and dedicated time with each child."
It also keeps them away from computer screens. The family, including Tracey, plays singles, doubles and league tennis, meaning the boys learn competitiveness and how to be a member of a team. "It is also really good for their mental strength and hand/eye co-ordination," he says.
The youngest son, Sebastian, started playing three years ago as a 4-year-old and now competes above his age group. The oldest, 14-year-old Christopher, gives his father some stiff competition on the court.
"We have a really great game."
Stephen appreciates that tennis is also relatively safe. "You might get a rolled ankle, but there are no nasty tackles."
Cycling
Rickie Paterson has a rare insight into his 16-year-old daughter Tara's life. Paterson is manager of the Westlake Girls High School cycling team and spends several hours a week on the road with Tara and her friends.
"Most teenage girls don't want their dad anywhere near them," says Paterson. Cycle training also gives father and daughter plenty of time to chat in a relaxed way and he hears all the gossip from her friends. "It keeps my finger on the pulse."
Paterson had not ridden for years when Tara took up the sport. He now expects to do it for the rest of his life. "I'm hooked. I am going to do it until they put me in a coffin."
Paterson, a former rugby player, is a "big believer that sports make good people" and encourages all his daughters, including Renee, 10, and Sarah, 12, to play sport. Sarah plays football and Renee is involved in the Piha Nippers surf lifesaving.
"I believe in providing the opportunities and they can run with it," Paterson says.
Cycling is about as near as you can get to a cradle-to-grave activity. Babies can sit in bike carriers and trailers almost as soon as they can sit up. They can progress on to balance bikes at 2 or tag-along bikes for 5 to 9-year-olds.
Tag-along bikes attach to the seat pillar of an adult bicycle and allow the child to be towed along tandem-style.
Sparc's manager of recreation Deb Hurdle says if cycling with a child on a 12 or 16-inch bike is too slow for parents, they can go running and get the child to cycle along.
Social leagues
Be it five-a-side football, social netball, touch rugby or softball, social leagues are a great way for the family to play together. It may not be possible for a 5-year-old to play in the same team as mum and dad but once they hit their teens, it's a different story.
Many YMCA, university and school gymnasiums run indoor sport leagues. Basketball, football, touch rugby, netball and volleyball, are common indoor sports, which is great if long winter nights put you off going outside.
Dad Chris Barlow has played mixed-age, five-a-side football with his sons Miller, 5, and Felix, 8, at the Browns Bay Leisure Centre in an open league on Tuesdays.
Barlow also joins in the DevonSport Sun Run with Miller and Felix in the summer and is actively involved in their football teams in the winter. "There is nothing like leading by example," he says.
"The family sport we do now is the Devonport fun run. The idea is fitness and it's a chance to show the boys that it can be fun at the same time."
Barlow helps with the coaching of Felix's under-9 team and referees the games, both of which get him out on the field in football gear with his son. "I am [also] the coach/manager of Miller's under-6 team - again trying to encourage their enjoyment/involvement by taking an active role in their teams."
Kayaking
Kayaking is low impact, which means the older generation can take part as well and young children can don a life jacket and come for a ride, long before they can paddle. You'll need to dress warm to go kayaking in the winter. Even so it's a year-round family fitness activity that appeals to all ages.
"My grandson Campbell went out in a kayak before he was 1 [year old]," says Olympic gold medallist kayaker Ian Ferguson, who runs Ferg's Kayaks.
"We get families down here [his Okahu Bay shop and hire centre] going kayaking. There are kayaks for everybody. There are stable ones, fast ones, singles, doubles, and even kayaks that take three or four people," Ferguson adds.
Kayaking is a good option for children who don't want to do hard-out, high-impact sports.
"When you are kayaking you can stop and rest from time to time. Before you know it you have been paddling for a couple of hours. It is not so much like hard work."
This is what Ferguson and his wife do when they go out for a paddle together in their double kayak.
"It is good for couples. My wife would never go kayaking by herself, but she loves to go with me in the double kayak."
Wii Fit
Families don't need to do organised sport to get fit together. They don't even need to leave home.
The answer may be as simple as kicking a ball about in the backyard, playing hide-and-seek with younger children, or creating your own home-based activity circuit.
The Parr-Whalley family of Northcote exercise together in their lounge on wet days.
They use Wii Fit and other active Wii games, such as golf and ten-pin bowling. Mum Kana, dad Craig, and their homestay student take turns at playing with the children Arisa, 10, and Kaiyu, 8.
Or when the kids are bored, they have mini hockey and football games in the lounge with make-shift balls. Both children play football and Kaiyu has taken up hockey.
Sparc publishes "Action Packs" on its websites with ideas for inside and outside play, such as pillow case races and musical statues.
More digitally inclined families might want to try Nintendo's Wii Fit, suitable for all ages and designed by Hiroshi Matsunaga as a "way to help get families exercising together".
It has even been used in nursing homes to improve posture in the elderly.
Or, if you don't want to shell out a few hundred dollars for Wii, then good old-fashioned exercise DVDs are still available through retailers or from libraries and video rental stores.
* For more information visit Sparc online.