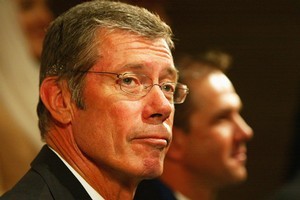 There is a perfectly good reason why people look up to John Buchanan, a highly decorated trouble shooter charged with guiding New Zealand Cricket (NZC) on to the straight and narrow.
And it's got nothing to do about an impeccable pedigree in the game, with his name forever associated with the champion Australian team he coached for eight years until 2007.
At 1.96m in height Buchanan is a towering figure and one lanky enough to look former New Zealand skipper Stephen Fleming squarely in the eye, a physical attribute he may find handy as he stands on tippy toes to survey the landscape he has inherited as NZC's director of cricket.
The Queenslander has taken on a huge, all encompassing role as NZC looks to pick up the pieces after a number of years of constant change on and off the field - of people being moved sideways or shunted outside the tent altogether and a national side failing to pull their weight on the international stage.
His wide brief encompasses overseeing the high performance programme, establishing "clear and consistent" national coaching philosophies, implementing a talent identification programme and overseeing the national selection panel.
It is just the sort of challenge welcomed by the 58-year-old, who brings with him a scholarly, analytical mind, sharp conversational skills, an aversion to cliches and an ability to confront issues from a neutral and detached vantage point.
His four-year appointment heralds the dawning of a new era. Whether that equates to success where it really matters will not be known until further down the line but what is known already is that Buchanan will orchestrate change from within, in culture, in systems, in processes and hopefully in outcomes.
It all means a period of serious change within NZC, which can expect more than the odd feather to be ruffled because Buchanan is not one to apply a light coat of sugar when a thick dollop of home truths is more in order.
He is said to like and encourage honest and robust debate, which could be seen as a novel approach within NZC, which has gone out of its way to discourage precisely that in recent years.
"You need difference in any group because what difference does is create conflict. Conflict leads to discussion and debate," Buchanan told NZPA during a frank interview at the Basin Reserve in Wellington.
"Out of that comes a utilisation of people's thinking, ideas and issues, and more importantly, solutions to all those things.
"It gives us a greater capacity to expand our horizons, hopefully to allow us to do what we want to do.
"Conflict is only unhealthy if it is not resolved, so part of the leader's role, or in a team the coach's role, is to manage that and to make sure it is all sorted before you leave the room.
"Without any debate or discussion all you are really doing is staying within your realms of certainty and comfort. That may be fine and it may be why you are a good team but you'll never be a great team or a high performance team."
Because of his award winning reign with the Australian side, some people naturally assume that Buchanan - who NZC bent over backwards to get and even acceded to his request for a four-year deal - will be the saviour of the game in this country.
He doesn't see it like that, though.
"I am not here about saving, I am here about improving what is here. I am really excited about what is here but I think it has so much room for improvement.
"In a sense, what has happened previously is gone so it is all about looking forward and looking where we can be."
To make his point, Buchanan dredged up a quote from icehockey great Wayne Gretzky, who was asked why he was such an extraordinarily good player.
"I never skate to where the puck is, I skate to where it's going to be."
But aspiration is one thing, fulfilling his brief is another for Buchanan.
"We have to put all the pieces in place and pull the puzzle together and all, everyone, gradually move in that direction.
"That is New Zealand cricket in total, not just a group of players, a coach and a director of cricket. It's wider than that and everyone has to be on the same wave.
"I took on the job because I thought it would be extremely interesting and exciting. I haven't been disappointed on either front although obviously it is going to be a big challenge.
"I've been really impressed with a lot of the people I have met, both within New Zealand Cricket and in the broader cricket family.
"It has reinforced what I thought from a distance because there is an incredible opportunity here for New Zealand cricket over the next four to six years to really make some huge strides, providing I do my job correctly.
"Hopefully that will mean it will enable everyone else involved in the high performance system to do their jobs better."
Buchanan has had his detractors, such as Australian legspinner Shane Warne, a mercurial talent with ball in hand but a free spirit and a wayward individual off the field who has continued to court controversy in retirement.
Which begs the question, how exactly does a coach coach someone like Warne, regarded as the best legspinner in history?
"For me, coaching has never been too much about the technical side of things although I could make some contribution technique-wise where appropriate," Buchanan said.
"It's more about harnessing all you have said about Shane Warne firstly into a team, then into a culture, then into a direction you want to go.
"Sometimes individuals jump on the train and then get off at a station for a while and you've got to hold the train up and get them back on, and then off you go again.
"I break the game down to technically, tactically, physically and mentally then team-wise.
"With someone like Shane Warne it's about making sure he has his game together, and he's the only person who really knows his game and when things are not together he brings in his specialists, or he might tap into other resources in the team.
"Then we have to make sure we all know what we are trying to achieve and that he becomes part of that journey to get there."
These are indeed interesting times for NZC and Buchanan's train has barely left the station.
- NZPA