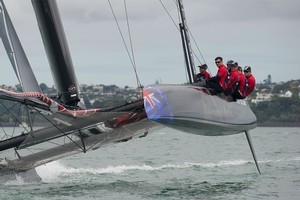 Emirates Team New Zealand take their AC45 for its first sail on the Waitamata harbour in March. Photo / Chris Cameron
Team New Zealand today formally announced it would challenge for yachting's America's Cup in California in 2013, with the taxpayer contributing $36 million to the campaign.
The decision was expected because the syndicate had paid the entry fee and were also preparing to compete in build-up events beginning this year.
However, managing director Grant Dalton had previously held off from confirming that Team NZ would definitely be at the startline off San Francisco, saying he wanted to ensure they could produce a competitive campaign.
He believed that point had now been reached.
"We believe that we can mount a credible challenge which will have a very good chance of winning the America's Cup," he said.
"That's our mission and that is the expectation of our sponsors, partners, suppliers and the people of New Zealand. It is an expectation that every member of this team is determined to fulfil."
Acting Economic Development Minister David Carter reconfirmed government support for Team NZ's entry.
He said that under a commitment made in 2007 by the previous government, the National-led government is contracted to contribute up to $36m to support Team NZ's Cup bid.
"The funding has the potential to generate significant economic benefits for New Zealand, in particular for our world-class marine industry," Carter said.
"With the eyes of the world on San Francisco in 2013, we will use the America's Cup to our full advantage by showcasing New Zealand's technology, products and services, and encouraging tourism.
"In the current economic climate, it is important that maximum benefit is gained from this significant investment of taxpayer money, and the Government's expectations in this regard are clear."
He said an independent economic impact assessment of the 2007 campaign showed a direct economic benefit to New Zealand of $74.4m.
The funding also retained up to 100 highly skilled specialists in New Zealand, including yachtsmen, designers and engineers.
In Spain in 2007, when sailing's biggest event was last held as a multi-team regatta, Team NZ were beaten in the final by then holders Alinghi of Switzerland.
While Americans Oracle won the Cup last year in a special head-to-head battle with Alinghi in giant multihulls, the next competition will revert back to having multiple challengers.
However, a decision was made to switch from traditional monohulls to a new class of catamaran, the AC72.
To ease the transition, a series of regattas will be contested in a smaller version of the boat, the AC45, beginning in August.
Dalton said racing in catamarans would make the America's Cup a very different proposition, from design, engineering and logistics to sailing skills.
He said the Team NZ design department was now more than 30-strong and contained multihull specialists, while the sailing crew, headed by skipper Dean Barker, had been competing in catamaran regattas with excellent results.
The syndicate will have naming sponsor Emirates airline and long-time backers Toyota New Zealand and Swiss watchmaker Omega back on board, and there will again be funding from the Government.
Dalton said a new sponsor, Swiss company Nespresso, which makes espresso coffee machines, had also signed on.
America's Cup organisers say the number of eventual challengers could be as high as 14.
Apart from Team NZ, eight other syndicates from France, Italy, China, Sweden, Australia and South Korea had had their challenges accepted.
Three others had yet to announce their participation, while two more were in the process of having their bids vetted.
- NZPA