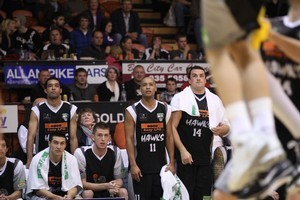 The Bay Hawks produced a scintillating second half display to overrun the Taranaki Mountain Airs 82-65 in their National Basketball League match in Napier tonight.
The hosts were second best in the first half and trailed 37-30 at the interval but then found their mojo to score 52 points, 26 points in each quarter, to romp past Taranaki who could only look on as a remarkable transformation took place.
The Bay Hawks, without player-coach Paul Henare who is preparing for the Australian National Basketball League finals with the NZ Breakers, had contributions from Josh Pace (20) and 19 from Paora Winitana while Jack Leasure led the way for Taranaki with 19 points.
In Wellington, defending champions the Saints were pushed by the Waikato Pistons before emerging with a 90-87 win.
Hawke's Bay 82 (Josh Pace 20, Paora Winitana 19, Arthur Trousdell 12) Taranaki 65 (Jack Leasure 19, Link Abrams 14, Marcus Campbell 11, Aaron Bailey-Nowell 10) Halftime: 30-37.
Wellington 90 Waikato 87
- NZPA