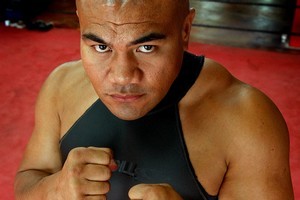 Boxer Demetrice King says he has now been paid his US$10,000 fee for fighting David Tua - but says he should have been paid by Inga Tuigamala.
The Herald on Sunday last week covered how an angry King - beaten on a unanimous points decision last month - arrived back in the US without being paid. Tua's US promoter Cedric Kushner and Tua's local promoter for the King fight, Tuigamala, disputed who was responsible for the payment.
However, speaking from New York yesterday, King said he had been paid by Kushner but expected to have been paid by Tuigamala.
"I have had 35 fights now and normally it is the promoter who takes care of the purse and that was the belief I had about the fight with David Tua," said King. "I think Inga was the promoter of that fight. Okay, I had ties with Gotham Boxing [Kushner's company] and I did not know the details between them [any arrangement between Kushner and Tuigamala] - but I figured they were pros like me and the details would be worked out so I could get paid.
"Inga seemed to be promoting the fight to me. Cedric is David's US promoter but he didn't seem to have any part of putting on that show.
"It's been difficult for me - you go in there as an athlete and potentially lay your life on the line and you expect the deal to be fulfilled when you have done your work."
Kushner said yesterday: "In the end, where the money came from was irrelevant. The fighter had to be paid and I took it upon myself to do that."
He said he stuck to his guns that he was not responsible for King's payment and maintained he had an unwritten agreement with Tuigamala for the latter to do so. Tuigamala strenuously denied that - pointing to a contract between Gotham Boxing and King as proof that he (Tuigalama) had no financial responsibility to King. Both men said the other was the promoter and the issue seemed headed for stalemate until Kushner paid the bill this week.
However, he will likely not remain out of pocket. Kushner will receive the monies from various overseas TV networks and channels who paid to screen the fight - money that he says was to have been passed to Tuigamala but which will now be used to defray the US$10,000 fee to King. However, such TV receipts often take six months or longer to arrive.
King says he is now looking for another fight. Asked what the US boxing fraternity felt about his bout with Tua, he said: "They thought I acquitted myself pretty well but, if you want to know, most people thought David Tua didn't have it any more.
"Those that talked to me said that they hadn't seen Tua going backwards so much; that they were used to him going forwards and they were wondering if, because he has been fighting for a long time, he might have to reconsider that he is not as sharp as he once was."
Even allowing for the fact that few fighters on the end of a unanimous decision come out and say: "He whupped me", it may be that the King fight did not have the desired side-effect of reigniting Tua's comeback campaign and ending the Maori TV contract which effectively limited Tua's income.
After the setback against Monte Barrett late last year, Tua's comeback still seems to be treading water. His next moves are awaited with interest.
Tuigamala could not be reached for comment.