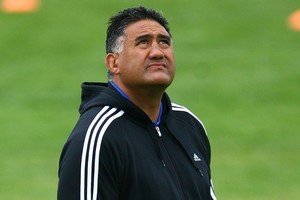 Chalk it up as the day Mac's Mitt went into southern rugby folklore.
When his paw joined others in that Hall of Hands like Kevin Skinner's sledgehammer dukes and David Latta's light-fingered fatality in a Ranfurly Shield challenge.
Just in case you missed it, Big Mac aka Jamie Mackintosh, the Highlanders' captain, took a chance and knocked the ball out of the grasp of Bulls halfback Fourie du Preez as the South Africans pressed for a try in the death throes of their match at Pretoria.
All referee Stu Dickinson saw was the knock-on as Mackintosh's viper-like strike disappeared back into the ruck. Moments later the game was over, the Highlanders had broken the Bulls' incredible unbeaten home stretch going back to 2008.
The basement boys had slain the defending Super rugby champions in a David and Goliath footy chapter, and after three rounds they stood undefeated atop the New Zealand conference.
Why do we feel so good about that? There are many reasons.
Front and centre though is the way this team of minimal stars have rolled up their sleeves and dealt to the opposition. They have played with great heart and growing skill, they have not been prisoners to the drip-fed patterns which seep down from the All Blacks. They have created their own style, and all power to them.
Who knows, they may not win another game, but the Highlanders have played with lots of chutzpah, plenty of courage and loads of resolve. Certainly they have their patterns and they have been well drilled by coaches Jamie Joseph and Simon Culhane, but they also carry that nonconformist air. They play differently.
We've heard about the difficulties of travelling to South Africa the day after a match and being pitched into combat at altitude less than a week later. It's almost painted as a can't-win contest, especially against the Bulls at Loftus.
The Highlanders kicked that theory in the guts, running the Bulls into the ground, using quick ruck ball instead of snoreathon recycled possession and bemusing the competition giants.
They even survived the last stanza with Alando Soakai in the bin.
They had men such as the 36-year-old five-eighths for hire Tony Brown kicking goals in a vigorous half of rugby and ring-in wing Kade Poki showing his array of threats, while the unheralded Shaun Treeby and Kendrick Lynn bossing the midfield.
The forwards had their moments in the scrum, but outside that Adam Thomson, Josh Bekhuis and Nasi Manu strode around the high veld boosting Jimmy Cowan's contribution as the Highlanders prospered.
It has been 12 years since the Highlanders were in a Super rugby final. It would surprise if they made it this year; you suspect they will be ground down in this extended season.
Whatever. They have already given the series a fillip and made Kiwi supporters more likely to pick them as their second team. And they should get more than 20,000 into Carisbrook in a few weeks when they play their first home game of 2011 against the Crusaders.