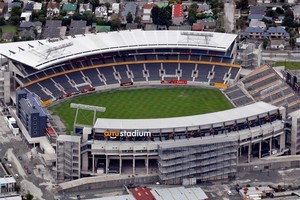 Rugby World Cup Minister Murray McCully says there is significant damage to AMI stadium in Christchurch that must be repaired if the city has any chance of hosting games at this year's Rugby World Cup.
"There is a serious liquefaction issue on the ground itself. I'm told there are some structural issues with the stadium itself, but obviously we aren't going to rely on my assessment," Mr McCully said this morning.
"We'll wait for the engineers' reports to come through."
He said he had visited the ground himself.
"There are parts of the ground where there is bulge in the playing surface of some significance."
Some of the ground had yet to be assessed, and Mr McCully said he was expecting further updates on Thursday.
"We're operating on the basis that, if it can happen, we'll make it happen. We're waiting to see if the stadium is able to be made ready for the hosting of the games, and then we'll look at the other issues associated with Christchurch's capacity to accommodate people and provide the appropriate infrastructure.
"[But] none of this works without a stadium."
In the end it is up to the IRB to decide if Christchurch will be ready to host any games.
Mr McCully said the IRB was being "enormously supportive".
"We want to try and give our best shot to hosting the games in Christchurch ... and I'm pleased with the scope the IRB has given us to put that case.
"At the end of the day, it's their decision."
There was no plan B at this stage, he said, but he expected ticket sales to take a bit of a hit.
"Sales have been going very well. Obviously this will pause things for a while ... we anticipate that we'll lose some ground for a while. Whether we can make that up later is
another matter."
Opposition leader Phil Goff said he hoped the games could stay in Christchurch, but he had spoken to many people on the ground, including business leaders, who had said it will be a real challenge to have the city ready in time.