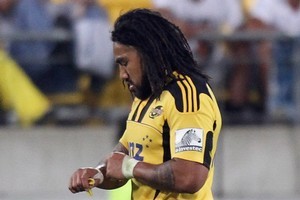 The Ma'a Nonu who turned up for the opening round of Super 15 is the one Graham Henry should think seriously about deleting from his World Cup plans.
Nonu, the Hurricanes' midfield back, is the bloke most likely ... to stuff up years of careful planning on the big day.
On the face of it, his ridiculous high and late charge on Highlander Jimmy Cowan was the last thing the All Blacks needed to see in an opening Super 15 weekend, where the highlight was a dazzling game at Eden Park.
Maybe it was exactly what Henry needed to see, though, because Nonu showed he remains a potential trainwreck ready to arrive at the Sandringham Rd station.
So Cowan "milked" the situation by staying down. There is still no need to obscure what really happened in Wellington on Friday night, where a drab contest was swung the visitors' way by Nonu's red card dismissal.
Nonu leaped off the ground and turned his shoulder into Cowan's head, making no genuine attempt to charge the halfback's kick down.
Instead of looking to intercept the line of the kick, he went straight for Cowan.
Cowan was fortunate to have been off balance when the hit arrived, because a lack of resistance helped him tumble to safety.
Nonu knew he was on shaky ground, already having a card against his name, yet happily flung himself into the danger zone again.
Referee Stuart Dickinson's decision was bang on.
This is precisely the type of indiscipline that has marred Nonu's career, one of smashing runs interspersed with lapses in concentration and judgment leading to penalties.
Such indiscipline and wayward thinking is a massive risk for the big World Cup games.
Nonu should be looking over his shoulder, not smashing people with it.
Sonny Bill Williams might already have the inside track for the test No12 jersey. And as the Blues and Crusaders showed, Nonu isn't the only blockbusting runner in New Zealand rugby. Rene Ranger and Robbie Fruean have everything Nonu offers, and possibly a lot more.
There was something annoyingly arrogant about what Nonu did, at the start of such a significant year.
At 28 years old, with around 150 tests and Super games, he should have grown up by now.
He deserves a decent suspension from today's judicial hearing, which is not to say he will get one.
No doubt, as an All Black superstar, he'll expect to waltz back into favour with Mark Hammett, who was let down in his debut as head coach.
I would also strongly disagree with Herald on Sunday columnist Richard Loe, who claimed that the Nonu tackle was "clearly not a thing of malice".
Football codes, including American football and league, go out of their way to protect kickers who are vulnerable targets against attacks such as the one Nonu committed.
And so they should.
Players deserve the protection, and sports won't help their own popularity and development if the head is not regarded as sacrosanct.
If Bakkies Botha had delivered the same hit on Dan Carter, there would be an outcry.
The less said about the matches involving New Zealand teams in Wellington and Canberra the better.
But Eden Park hosted an absolute beauty.
When rugby is played like this, there is no better sport on earth.
No long-suffering Blues fan would dare predict a corner has been turned, because they have been down this path many, many times before. For with every great performance lies the chance of a loss against the Cheetahs or Lions.
These Blues have serious firepower and this stirring comeback win over the Crusaders before a big crowd was enough to stir an Auckland (or Blues, if you must) heart.
Auckland rugby should be pulsating and dynamic and Pat Lam's team has the potential to deliver that.
The new format, with home and away clashes between the teams within each country, is a terrific change.
In this case, the Crusaders will be out for revenge on home turf. We can all quickly relate back to what happened in the opening round when the return game takes place.
The rebuilding of internal rivalries via the Super format will help compensate for the inevitable demise of New Zealand's provincial rugby.
WEEKEND WINNER
The Blues - Ranger Danger.
WHAT TO WATCH
Can the Blues follow it up against the Sharks on Sunday morning, or will the old bugbears resurface?