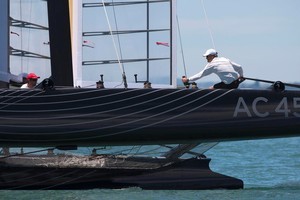 The 34th America's Cup should be exhilarating, with its high-speed, on-the-edge catamarans - as long as everybody turns up.
While Oracle Racing CEO Sir Russell Coutts says he is certain the event will attract at least eight entries, the deadline is now only two months away and yachting circles are busily speculating about whether the holders will attract enough challengers to the starting line.
That is the backdrop to Coutts' presence in Auckland to sail the new AC45 wing-sail cat (the 45-footer designed to race in the pre-Cup 'World Series') which will give teams multi-hull experience before graduating to the full 72-foot version in the America's Cup in San Francisco in 2013.
Coutts took time out to promote the catamaran racing, opposed by many old salts who do not agree with ditching the old monohull Cup-class yachts. Some also say Oracle's multi-hull experience, courtesy of last year's demolition of previous holders Alinghi, is too big an advantage.
While America's Cup organisers are claiming there are already six entries, and Coutts predicts 8-10, not all are guaranteed of making it to the start line at this stage.
Counting Oracle, entries so far include challenger of record Mascalzone Latino (Italy), Aleph Team France, Artemis Racing (Sweden), YuuZoo (Australia) and one who is yet to be named - but whom most assume is Emirates Team New Zealand.
However, YuuZoo are a long way yet from getting the financial backing to get them to San Francisco and America's Cup insiders say even Mascalzone Latino is feeling the financial pinch. Among the rumours are:
That ETNZ are finding it hard raising the cash. Certainly team boss Grant Dalton is not talking yet, although few have a better track record in fundraising.
That Mascalzone could even drop out and resign as chall-engers of record, meaning Artemis will take over.
That Coutts is under some pressure to get entries up.
Coutts said yesterday: "I am sure Artemis would like that [becoming challenger of record] and there is no doubt that Mascalzone, like everybody, have had a tough few years. But I will tell you this - I am positive about there being eight teams and there could be up to 10."
Certainly syndicates are feeling the pinch. Oracle too have lost naming sponsor BMW recently. The €1 million entry fee (NZ$1.7m) and US$3m bond (NZ$3.8m) were recently dropped to US$100,000 (NZ$130,000) and US$1m (NZ$1.29m).
Britain's Team Origin and South Africa's Shosholoza have already declined to enter, citing costs and format - although Coutts says Shosholoza are still trying to raise the funds to enter.
The two teams' critism of costs drew a rebuke from Mascalzone boss Vincenzo Onorato: "We do not have any sponsors to date, although we have some negotiations in progress... We at Mascalzone Latino declare in all honesty that we are struggling to survive.
"...I would have preferred that important teams such as Team Origin and Shosholoza, instead of using excuses related to the event format, the catamaran revolution and the budgets, limited themselves to declaring that at this moment they had no money and no prospects for a sponsor."
There is a long way to go yet and teams still have time to seal sponsorship. Coutts said the budget needed to be competitive was around €80 million (NZ$140m). He agreed with Onorato that a team like Shoshaloza could take part for about €17m (NZ$30m) but "you wouldn't win it" at that level.
"However, there will be some really good teams announced soon and I am also sure, in the next month or so, there will be one or two teams coming in on smaller budget campaigns." Coutts said Oracle had gone to lengths to make the 34th Cup cheaper, making cuts to personnel, transportation, technology and accommodation.
Before the Cup proper, however, will be start of the World Series later this year, sailed in the AC45s. Organisers are set to announce the Series venues - thought to include Europe and the US - by the end of this month but there are hints that could be delayed. Coutts says organisers are talking to Auckland about staging a regatta here but Sydney could be the first venue - even though the boats are being built and trialled here.
Venues will need to put up cash. "Like everything, it's a commercial proposition," said Coutts. However, it is to be hoped that the catamarans get backing as, judging by Coutts' and skipper James Spithill's enthusiastic endorsement of the AC45, the multi-hulls promise racing that monohull advocates say they are not capable of.
Coutts has made some valid points about the need to hook a younger Cup audience and Spithill said, when asked about the AC45's performance: "It was awesome. We have had it out in 3-4 knots and 25-26 knots. I am sure we could race in 30 knots. It will be a handful - a few boats will be right on the edge and some could even capsize. But that's what it's all about."