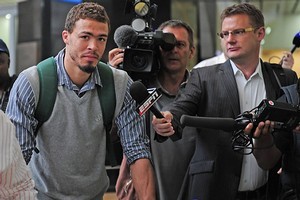 Springboks Chiliboy Ralepelle and Bjorn Basson have been told that they can return to playing rugby immediately after a judicial committee found "no fault" on the part of the players for positive tests for a banned stimulant.
Ralepelle and Basson were charged under anti-doping regulations after they tested positive for methylhexaneamine (MHA) following the Springbok Test against Ireland in Dublin on November 6, 2010.
The players were suspended from all rugby activities as a result and had to return home from the tour, but South African Rugby Union (Saru) chief executive Jurie Roux said: "This verdict completely quashes any idea that either the players or the team were guilty of any attempt to cheat.
"No responsibility attaches to the players at all."
The banned stimulant was in a nutritional supplement Anabolic Nitro Nitric Oxide Extreme Energy Surge given to the players in the warm-up before the test against Ireland.
It is a product used by other professional and national teams around the world.
The Springbok team took the supplement before the November tour during the home leg of the Tri Nations Tournament in August 2010 without any positive tests for MHA showing up.
But laboratory tests since then have shown that supplement manufactured in South Africa tested negative and supplement manufacture in Britain tested positive for MHA.
As a result of the verdict, Saru had changed its approach to supplements, said Clint Readhead, medical manager.
"We have always been wary of supplements but have tried to manage the risk as the players do want to use them," he said.
"We did everything in our power to ensure that the supplements we supplied to the players were safe and we thought we'd put in place enough safeguards to minimise that risk. We received a certificate from the lab saying that the product met Wada specifications.
"As a result of these positive tests however we will not endorse, condone or supply supplements to any of our players as one positive test from a rogue batch is too heavy a price to pay."
- NZPA