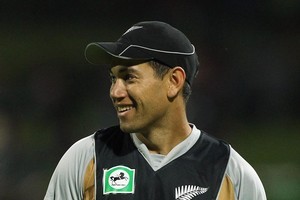 Ross Taylor became New Zealand cricket's first million dollar man as he was auctioned to a new franchise - the Rajasthan Royals - in India's lucrative IPL Twenty20 auction last night.
It was a record signing for a New Zealand player in the IPL, with his US$1 million value ($1.32m) outstripping Shane Bond's US$750,000.
McCullum was sold to the new Kochi franchise last night for a surprisingly low figure (US$475,000) and New Zealand captain Daniel Vettori also went 'cheaply'; for US$550,000 to Bangalore, well under his previous auction price of US$625,000.
Part of the reason is the luck of the draw - those auctioned earlier can attract bigger bids which tail off as the franchises count their available cash under the cap. Bidding for other players continued late last night. Jesse Ryder may also be picked up but he and other Kiwi players will attract lesser sums.
This value will make Taylor considerably wealthier. In theory, he pockets the US$1m for his move away from the Royal Challengers Bangalore, who were beaten out of the bidding by Rajasthan.
However, the sum can be reduced considerably by a number of conditions.
They include a deduction of 20 per cent if the player's team does not make the Champions League. A further 20 per cent can be deducted on a pro rata basis if players are available but not selected. If players are injured during the tournament, salaries can also be reduced by 50 per cent.
If players fail to appear at any of 10 promotional appearances, 10 per cent of their salary is deducted - but, in a worst case scenario, Taylor could have his figure reduced to the vicinity of US$600,000. If he's injured, that could scale down further to US$500,000.
If Taylor was happy last night, consider Indian opener Gautam Gambhir's state of mind. He became the record signing in IPL history when purchased by Kolkata Knight Riders for US$2.4m.
Gambhir was the first man to be auctioned last night and provoked a flurry of bidding - and was followed over the US$2m mark by Indian all-rounders Yusuf Pathan (US$2.1m; also by Kolkata) and Rohit Sharma (US$2m; Mumbai Indians). Dashing opening batsman Robin Uthappa also went for US$2.1m to new franchise Pune.
The previous top bid for an IPL player was the US$1.5m paid for both Andrew Flintoff and Kevin Pietersen of England.
This time, all-rounder Irfan Pathan (US$1.9m, Delhi Daredevils), Yuvraj Singh (US$1.8m; Pune) and Mahela Jayawardene (US$1.5m; Kochi) also exceeded or equalled the old mark.
The auction confirmed the pattern of recent IPL auctions - with Indian players attracting the biggest bids and some overseas players valued less. Taylor's auctioned value of US$1m compares favourably against the likes of Tillekeratne Dilshan (Sri Lanka, bought for US$650,000 by Bangalore); Kevin Pietersen (England, $650,000, Deccan Chargers), Andrew Symonds (Australia, US$850,000, Mumbai Indians); Kumar Sangakkara (Sri Lanka, US$700,000, Deccan Chargers); Adam Gilchrist (Australia, US$900,000; Kings XI Punjab).
The most expensive non-Indian players were South African all-rounder Jacques Kallis (US$1.1m, Kolkata); Australian all-rounder Cameron White (same price; Deccan Chargers) and South African batsman AB de Villiers (same price; Bangalore).
Players without the dash and hitting power for the T20 game went for much cheaper prices. India's Sourav Ganguly (the maker of over 7000 test runs and 11,000 ODI runs) is now 38 and did not receive a bid.
Neither, astonishingly, did West Indies swashbuckler Chris Gayle, unsold last night, although that is thought to be because he could only play for a few weeks of the IPL season. Rahul Dravid drew $500,000 and VVS Laxman only $400,000.
Black Caps manager Dave Currie said players were unavailable for comment on the IPL issue until the end of the test. "Clearly we're in the middle of a match so we're focusing on that."
That focus must have been sorely tested. Rumours abounded in the Seddon Park press box that muffled cheers were heard coming from the Black Caps dressing room at the same time as Taylor sold for US$1 million.
Taylor was also seen furiously working his phone as he disappeared around the corner of the main stand in the immediate aftermath. Vettori and McCullum were doing likewise as they strolled diagonally across the Seddon Park turf.