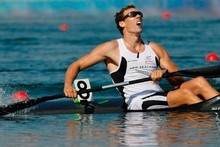 Kayaker Ben Fouhy has walked away from the sport, this time for good, ending a turbulent chapter in New Zealand sport.
The 31-year-old said a combination of factors has made it impossible for him to enjoy racing and competing any longer.
Chief among them was Sparc's decision not to ring-fence funding for him, which would have allowed him to develop his own campaign away from Canoe Racing NZ.
Fouhy's issues with senior staff at CRNZ, particularly Ian Ferguson, have been well documented and that, along with a "battering" he has taken in the media, has also led to his retirement.
"It's all very well for Sparc to say we hold the money and this is the way it has to be done, but at the end of the day it is the athlete that has to get the boat across the line.
"You're not going to be able to compete at Olympic level against athletes who have the kitchen sink thrown at them unless you believe that what you're doing is designed to make you a better athlete."
Fouhy likened the situation to a Formula One team, saying if a driver came in from testing suggesting changes to the set-up to the car, the people who held the purse-strings were hardly going to say that because they held the cash, the car would be set up how they wanted it, driver be damned.
"As an athlete, everyone's needs are different and there's nothing wrong with that. The art of elite sport is to allow individual athletes to grow. I might have a different way of looking at things and preparing than Steven Ferguson. That's natural, it's human."
Fouhy said when he was asked to come back to the sport last year, he was given the opportunity to come up with a programme that would make him a better athlete. One of his non-negotiables was he had to work outside the CRNZ programme.
"I wish it didn't have to be the case but it was a fact of life. There was too many obstacles within that environment for me to be an effective athlete."
When Fouhy's programme was agreed to in principle, he said he felt enthused again and gratified that there were people out there who believed in him.
"The first sign of heat from the media and they [Sparc] turned 180-degrees on that agreement. You have to stand by your athlete. They didn't. They stood by and watched me get battered in the media for three months and then decided it was easier for them to renege on their deal."
Two things have irked Fouhy more than anything else: he has been painted as the aggressor when, in fact, he was happy to quietly walk away from the sport last year; and the fact the dispute centres around a sport, the K1, New Zealand did not even race at last year's World Cup regattas.
"It has been an unpleasant time for me and my family. It's been horrible.
"People might say, 'you're a tough athlete, that sort of thing shouldn't bother you', but it does.
"It might sound melodramatic but it eats away at you.
"It grinds you down. You can't enjoy your sport under those circumstances. Ian Ferguson has ground me down."
Fouhy was under the impression that he was brought back to race the K1 1000 at the world champs to qualify New Zealand in that event for the London Olympics.
According to Fouhy, after the K2 had performed poorly in Europe last year, CRNZ chief executive Paula Kearns told him that Steven Ferguson wanted either to race in the K2 with him or, failing that, was considering a legal challenge through the Sports Tribunal for the K1 berth.
"I was just getting fatigued by the whole process."
By Dylan Cleaver

Email

Dylan