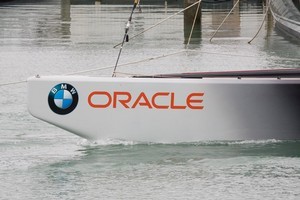 With many of the world's syndicates waiting eagerly to see San Francisco confirmed as the venue of the 34th America's Cup, the parting of the ways between America's Cup holders Oracle and naming sponsor BMW (BMW Oracle) is intriguing.
The corporate line is that all goals were achieved when BMW Oracle won the Cup this year - but many corporate pronouncements mask the real reasons. A far more likely scenario is money.
Cup insiders say that BMW, sponsors of Oracle since 2002, offered a goodly amount to partner the holders again in the 2013 regatta - but Oracle's billionaire boss Larry Ellison rejected the offer, apparently seeking close to double.
However, there is more than a bit of gossip to say that BMW, while they maintained the brand association, did not pay a lot during the tedious lawyer-led years when BMW Oracle and Alinghi were duking it out in court.
That battle finally ended with a unique contest between Oracle's giant trimaran and winged sail and Alinghi's giant catamaran.
Ellison's rejection of the BMW offer this time round looks curious, especially when the holders have made such a virtue of wanting the 34th America's Cup to be a less expensive affair than it was under Alinghi (and thus less of an investment for sponsors).
Curious, until you consider Ellison might have wanted the German giant to stump up with a bit of the money it saved in the tight times. BMW have also returned to healthy profit since the recession.
There are also whispers BMW's rival Audi is waiting in the wings, although it's not known if they are keen to be a naming sponsor.
Sponsorship is precisely what hangs in the balance with the naming of the next Cup venue, timed for December 31.
Most syndicates are keen on San Francisco, as that venue enables sponsors to tap into vast US resources and potential in terms of payback.
Emirates Team NZ are one of those waiting to hear San Francisco announced as venue for those reasons, although there were recent signs that the San Francisco effort had struck a bit of a costing rock.
Some in the city are saying Ellison wants too much for the privilege of siting the Cup there, enabling Rhode Island and Italy a ray of hope as alternatives.
Some predict a small team could compete in the 34th Cup for as little as US$40 million a year, although most of the bigger syndicates may still be looking at more than US$100 million per annum.
Meanwhile, another premium brand - Louis Vuitton - has returned to the America's Cup after bowing out following a fractious relationship with Alinghi. They will once again have naming rights for the Cup's challenger series and be involved in build-up races in 2012, taking over from the Louis Vuitton Trophy series - the last of which was raced in Dubai this year; won by Team NZ.
At present, only Oracle, Mascalzone Latino (Italy) and Artemis (Sweden) have entered, along with French team Aleph and a fifth, as yet unnamed, team which will be announced later. Waiting in the wings are Team NZ, Franco-German syndicate All 4 One and Synergy (Russia).
There have also been signs that Australia will end their 13-year absence from the Cup, with the YuuZoo Big Boat Racing Team issuing a notice of challenge that could see the as yet unformed team become a sixth challenger. No yacht club has yet been associated with the Australian challenge.