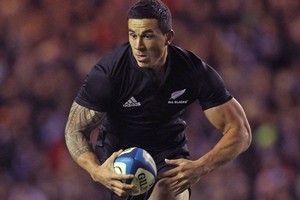 He may look and play like a beast but the All Blacks say Sonny Bill Williams has barely scratched the surface of his athletic potential.
If Williams can stay free of injury, he could reach the World Cup much more powerful and quicker than he is now.
Such a thought will hardly bring cheer to All Black opponents who will hope this is no more than scaremongering. To look at Williams, it's scarcely believable he's well short of his physical peak.
But the circuitous route to the All Blacks left gaps in his development. While he was exposed to a high performance training regime at the Bulldogs, the last two years in France may not have driven the most out of him.
A combination of injuries and a peripheral focus on his fledgling boxing career were not necessarily ideal.
All Black conditioning coach Nic Gill says that, while Williams is an impressively powerful athlete, much of that is down to natural strength.
"What is scary is that physically he is quite impressive but he's quite raw," says Gill. "What's exciting is that his potential is huge.
"I dare say he trained hard when he played league but since then he has been mixing and matching things. He's had a few injuries so I think he's got quite a young training age for someone in this environment.
But you wouldn't think that looking at him. You look at him and you can see he has got enormous potential. We can get him stronger and quicker.
"He is powerful now but he is not as strong as he could be through a lot of areas - through his trunk and through his legs; everything could be stronger."
The summer months are already mapped out. Williams will spend more time in the gym than before. He did little weight training in France, the advice from his boxing coach being to steer clear for fear it would slow him down.
He'll also spend plenty of time on his aerobic fitness, as will all the All Blacks. One of the bigger changes this year has been the extra time the ball has been in play and the longer periods of continuity.
In 2009, few teams could build multiple phases, but 2010 has seen a dramatic shift where the ball can be recycled as many as 30 times.
Those periods require supreme aerobic fitness which is why the All Blacks have tailored their training this year to include more sprint repeats.
"We have been doing high intensity running with short rest periods," says Gill.
"We do lots of turning - old school, hard running. Some of our big boys are 110kg-115kg so they don't last long if we ask them to run for long periods."
At 110kg, only the tight forwards are heavier than Williams, yet he is one of the leanest in the squad. It's little wonder that since he switched to union in 2008, there has been talk of him potentially playing blindside.
But the All Blacks have ruled that out. They see him as a 12 who can cover 13 - which is why they are so keen to see Williams improve his core strength. The medical feedback after tests shows the players who suffer the most physical damage in a game are the midfielders.
The collisions are more frequent and often highest impact in that area and Williams, despite his size, has been vulnerable to injury.
"The other thing we need to get out of him is durability," says Gill. "Hopefully by getting him stronger, we can prevent him from being hurt. I think if we can get him stronger throughout his core and build his training age, then it will be very exciting. If he's not playing week in week out [next year], we will see exciting shifts.
"It is like any of these guys over the next 12 months - the challenge is going to be managing their bodies and their minds to make sure they are going up the graph. If Sonny keeps working the way he is working, he'll keep going up week by week."