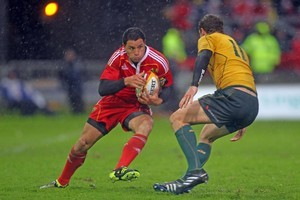 As a rule wings don't appreciate rain. They like it even less when it's accompanied by a gale-force wing that's driving it horizontally across the ground.
But when you play for Munster and you play the bulk of your home games at Limerick's Thomond Park, it pays to put those prejudices to the side.
When Doug Howlett got to the ground on Tuesday night [Wednesday morning NZT], he knew exactly what sort of game it was going to be and it made him smile. He would never have been so cocky to admit it out loud, but it was going to be the sort of game his team were going to enjoy. Australia? Not so much.
"The weather just added to the drama," Howlett said. "The wind and the horizontal rain, it was something else. It's a special place here and not only because of the weather."
It's special because Howlett has embraced Munster and its people and they have reciprocated.
Howlett, 32, moved to Cork following the World Cup. He, wife Monique, and their two children are in their third year in the south of Ireland and the New Zealand test try-scoring record-holder cannot say enough about how he has been welcomed into the Munster family.
Sam Tuitupou feels similarly.
The 28-year-old midfielder, who was probably the best player on Thomond Park on Tuesday, admitted he had struggled to adjust to life in Worcester, where he played a little more than two seasons.
"Coming here to Ireland, it feels like being back at home. I'm close to the water and it rains all the time," Tuitupou said. "The Irish boys are just like the cuzzie bros back home, so it's all good."
It helps, too, that they are playing at one of the most successful club or provincial sides in the world. Not only do they have a history of making life tough for overseas teams - they drew with the All Blacks in 1973, beat them in '78 and this week's victory was their fourth over the Wallabies - but they are perennially challenging for the Heineken Cup, the symbol of European rugby supremacy, and the Magners League which is the domestic competition for the celtic nations.
"It's a wonderful place to play. You get these opportunities because we're a successful team," Howlett said. "They play in all the best competitions. It's the team environment and the region in general that makes it. You saw the crowd tonight - they're very much part of the team."
You have to earn that crowd approval. Too often European crowds have seen New Zealand players coming over with big reputations and big salaries to match, yet giving little to the cause. Often it's not all their own fault. Years of relentlessly tough rugby has left them with little left in the tank.
Not so Tuitupou, who still throws himself into the line and throws himself into every tackle like it's the last one he'll make.
"Being part of the Munster history has been a big thrill," he said.
Not so Howlett, who doesn't get as many chances here to express himself with ball in hand, but does everything he can to help his team win trophies.
"I made the decision to come up when I was on top of my game. I still felt I had a lot to give and that was one of the reasons for coming up here," Howlett said. "I didn't want to come up and see my career out, I wanted to add a few things to the environment here. Having done that, you get the opportunities to play in these big games and I'm rapt about it."
Both Howlett and Tuitupou like the similarities between the Irish lifestyle and the one they enjoyed back home.
Tuitupou's family still live in West Auckland, with his four kids late for school at Peninsula Primary on Wednesday because they were watching their old man play Australia.
But it is impossible not to notice that life is a bit tougher for most Irish now. If the Celtic tiger is not extinct, then it's hiding itself very well and the problems of getting quick ball seem entirely trivial compared with the prospect of a country that needs a financial bail-out if it is not to plummet from recession into depression.
Sport has its part to play, insists Howlett: "Of course, it's a little dim at the moment and a lot of people are looking to sport for a bit of a pick-me-up, so the win [against Australia] would have been a great occasion for everybody."
Howlett reckons the Irish will prevail because they're hard-wired to do so. He even sees that spirit among his Munster teammates.
"They scrap and fight for everything. Sometimes in the team we're scrapping amongst ourselves. It all grows the culture because we sit down and have a laugh afterwards, but nothing is given out lightly here."
There's a significant New Zealand rugby community within Munster rugby. Along with the two Aucklanders, Canterbury prop Peter Borlase has just arrived and Lifeimi Mafi would have played had not been for a pesky little seven-week suspension. . In the back room there is Jason Holland, the former Manawatu and Taranaki five-eighth who is assistant coach to Tony McGahan.
Still, when they play badly they're foreigners.
"It's only a small sort of town so everyone gets to know you by first name," Howlett said. "It's a nice environment and they're a knowledgeable bunch who let you know when things are going well but on the other side of the coin, when you're not going so well as well."
There's another part to this Aotearoa-Munster connection - October 31, 1978. Munster might have just peeled off their fourth victory against the Wallabies, but they all pale in comparison to the events at Thomond park that day.
Time has done nothing to diminish its sporting and cultural significance.
Ask Tuitupou how often he hears about it?
"All the time."