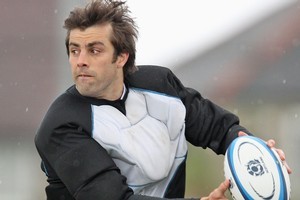 All signs point to Sonny Bill Williams getting another test start this weekend against Scotland, this time at second five-eighths inside Conrad Smith.
Elsewhere it is less clear who will be named tomorrow, as the All Black coaches try to balance the development of combinations with the primary goal of winning the third Grand Slam of their tenure.
"We want to try to get everyone an opportunity if we can, but we're not making massive changes either," said assistant coach Wayne Smith, without elaborating on what constituted massive changes.
"We're looking at combinations, we're looking at giving players opportunities as well as winning games so there's a lot of things coming into the mix."
Scotland have been used as a development opportunity in the past but recent form, including two wins in Argentina, suggests they will provide stiffer opposition than in 2008.
In a match won 32-6 by New Zealand, Isaia Toeava started at fullback, Stephen Donald at first five-eighths, Liam Messam at No 8, Anthony Boric at lock and John Afoa anchored the tighthead side of the scrum.
All five are available to reprise those roles, though some have better odds than others.
Donald faced the media yesterday for the first time since his errant cameo in Hong Kong, apparently none the wiser whether he would be starting this weekend but insistent his confidence had not taken a beating.
"Obviously there was a couple of poor decisions more than anything," Donald said of his Wallabies shocker. "To be fair, that's fixable. It's an experience I've got to learn from.
"As far as confidence goes, I still back myself. I'm in the best physical shape of my life and my skill level is still up there, it's just a matter of making a bit better decisions than I did in Hong Kong."
The decision that has the potential to hang over his career like no other was to punt downfield instead of into touch when the All Blacks were clinging to a five-point lead with time virtually up.
He revealed that the kick was not a shank, but deliberately sent deep in the expectation a sound defensive line would mop up any counterattack.
"I was pretty sure the hooter hadn't gone so there was still time ... so I punted it down there and hoped we'd be able to squeeze them, but Kurtley Beale's a pretty handy footballer."
Donald said he was aware of the negative reaction to his performance from messages and emails he had received from "genuine" friends, "but I certainly didn't go investigating what you guys were all saying about me, no".
Although this selection panel has not made a habit of following conventional logic when it comes to picking a team, it would make more sense for Donald to start from the bench, particularly as this match provides another opportunity to bed Williams in outside Dan Carter.
Smith said they were interested in looking at the former league star's potential at second five-eighths after watching him mix the good with the naive at centre in his debut.
"We see him as an interesting prospect in a couple of positions. In Super rugby he may have a crack in other positions as well. You never know," Smith said.
He pointed to a brief spell he spent at blindside flanker for Toulon as an example of his versatility, before emphasising they had no plans for Williams to mix it with the forwards.
"He's an athlete who we've got to find what best suits him and the team, but certainly 12 and 13 are the areas we're targeting."
Analysing Williams' debut, Smith said it was clear he offered enormous attacking benefits, though he was still learning his defensive angles.
"It's been a big work-on. The next part of that work-on is to get him to finish the tackle off."
Keven Mealamu has travelled west to Glasgow to front a hearing conducted by judicial officer Professor Lorne Crerar of Scotland.
The All Black hooker has been charged with striking after an alleged headbutt on England captain Lewis Moody and will be represented by the NZRU's British-based lawyer Owen Eastwood and assistant coach Steve Hansen.