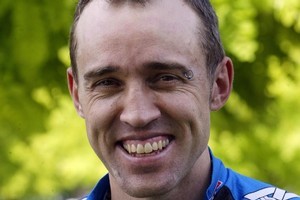 Glen Chadwick. Photo / Hawke's Bay Today
Auckland cyclist Mike Northey etched his name in the history books as the first Pure Black Racing rider to record a stage victory when he won the fifth stage of the Tour of Southland.
But a day-long commanding performance from Share the Road ensured team leader Jeremy Yates retained the yellow jersey for a third day yesterday.
Attacking from just 400m out, Northey snatched line honours from teammate Glen Chadwick, of New Plymouth, in the 101km stage from Tuatapere to Winton.
"I'm glad I could get up there. I didn't think I had the legs. I was a bit far back, but the team gave me a real good pull up to the front," Northey said.
"Someone told me 'if in doubt, lead it out' so I went early and hung on."
It completed a memorable day for Northey, who finished second to pro tour rider Greg Henderson, of Calder Stewart-Bike NZ, in the morning's 88km stage from Invercargill to Tuatapere, ridden at a fast pace.
Pure Black teammate Roman van Uden strengthened his stranglehold on the sprint-ace jersey despite mechanical failure enabling Clinton Avery to venture within striking distance during the morning stage.
Subway Avanti's Joe Cooper dominated the only climb of the afternoon to retain King of the Mountain status for a second day after losing it briefly to Southland Vehicle Sales rider George Bennett, of Nelson.
Overall, the experienced Share the Road team dictated proceedings once again.
"It was a perfect day for us," said Jason Allen, of Christchurch.
"We controlled it all morning like we had to, and the break got brought back right on the line.
"Calder Stewart threw pretty much everything at us this afternoon to try and break us up because they knew we'd be tired, which we were.
"A couple of times they threw the whole team on the front in the crosswind, but we managed to claw our way back into it and get on the front."
The day's second stage sorted the men from the boys - the field quickly fragmented shortly after leaving Tuatapere, with more than 20 riders dropping off the pace.
Yates, who had a flat tyre shortly after the peloton stormed through the seaside town of Riverton, was justifiably impressed with his teammates.
"They rode damn near 95 per cent of the stage on the front - it was an incredible effort and just further goes to show how strong our team is.
"The plan was for the boys to ride so fast that no one would want to attack. There's going to be some broken bodies in the bunch tonight."
Having won it four times in the past, including 2008 and 2009, Yates is eagerly anticipating today's 133km stage from Lumsden to the top of the Crown Range, near Queenstown.
"I don't think I'll be given much freedom so I might have to get out there and get on the aggressive."
Teammate Jack Bauer is second overall at 4 seconds.
But three-times winner Hayden Roulston looms large at just 22s in third, while American Floyd Landis has an outside chance at 1m 02s in fourth.
- NZPA