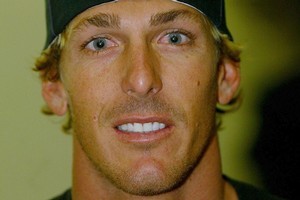 Kiwi friends of American surfer Andy Irons have remembered him for his battles with fellow world champion Kelly Slater, for being "one of the boys" and for the time he gave to help boost New Zealand surfing.
Irons, 32, was entered in a world championship tour event in Puerto Rico, but withdrew from the competition when he was struck down with suspected dengue fever. He died in a hotel room in Dallas on a stopover on the way back to his home in Hawaii.
Top Kiwi surfer Maz Quinn had known him since 2001 and said Irons had been a "huge influence in the surfing world".
They toured together and Quinn, 34, saw him when he visited New Zealand in 2005 and 2006.
"We got on pretty well. It's a huge shock, especially for a guy who surfs all the time. He was really fit."
Quinn said Irons was "just like one of the boys" and easy to get along with.
"He was competitive like every other surfer, but was still down to earth and would talk to anyone."
Irons' wife was expecting a baby within the next month, he said. "It's sad, it'll be hard for the family."
Quinn said Irons liked New Zealand even though each time he visited there the waves were bad. "He enjoyed himself out of the surf too."
Irons would be remembered mostly for his surfing accomplishments.
"For being three-times world champion and he was the only person to challenge Kelly [Slater] since he's been on the scene, and he took three titles off him."
Irons was world champion in 2002, 2003 and 2004.
Daniel Kereopa, 32, told the Herald his earliest memory of Irons was when they met at a competition in Australia.
"The one thing I noticed about him was his unique style of riding waves. He was really aggressive and he had an attitude about him that was a lot different ... He was quite loud and outspoken and got people's attention."
They caught up at contests around the world and Kereopa always enjoyed watching him surf.
"It was always exciting watching him surf because you knew any heat that he surfed he'd put on an exciting show."
Irons had a big following wherever he went with fans, and other surfers, keen to see him up against Slater.
"Everyone wanted to watch Kelly Slater or Andy Irons surf. And once that battle came to the forefront it was just them putting on a show for the rest of the world," Kereopa said.
Irons was "one of the brothers" and like a lot of the Hawaiian surfers was into spear fishing and enjoying himself away from the sporting and media spotlight.
Surfing New Zealand chief executive Greg Townsend said he didn't have to twist Irons' arm to visit and support local surfing.
"He was more than happy to come out and support NZ surfing ... He was pretty inspirational and was an absolute pleasure to deal with."
Since then Mr Townsend had kept in touch with Irons and his family.
"He was in ... great comeback form. He was striving to get back to the No 1 position."