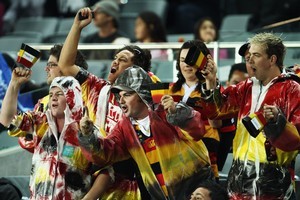 I am in a pickle. If I had to pick a winner of next weekend's ITM Cup final my choice is between my two old provinces - Canterbury and Waikato.
I'm going to go with Waikato, but only if they can reproduce the ferocity they produced against Canterbury in the last round-robin match. I wouldn't say the Waikato tight five are classier than the Canterbury men, but I suspect they might be a little more hardworking.
That quality shone out last night in that last-second win against Auckland. It was a fine match which could have gone either way but it all came down to that last-second scrum and bash at the line.
Auckland rather outsmarted themselves, I thought, by taking off a front rower and having Golden Oldies scrums. Sides who think they are defusing things by doing that often get it wrong - and I have always felt that if you are in a defensive scrum situation, getting a good hit on and going forward sharpens up reaction time when you have to leave the scrum and tackle.
Sometimes, if you are just leaning on the scrum, reaction time and accuracy suffer.
It was a brave win by Waikato - they have grit and determination, as Auckland played really well in the first half and could have cleared out from other sides.
However, I think the difference in the two finalists comes back to the tight five. In Canterbury's match against Wellington, I thought Canterbury were a bit lucky on one hand but, on the other hand, they made their own luck.
Wellington were unlucky that Jon Schwalger's try was ruled out. It was ruled inconclusive - but exactly the same circumstances applied when Canterbury hooker Steve Fualau scored. You couldn't see the ball forced there either - but that wasn't inconclusive?
Canterbury repelled Wellington after Schwalger's try was disallowed - and then ran away with it a bit. If that try had been given, the momentum could have shifted.
Still Wellington didn't make their own luck, I have to say. I think they have a more talented tight five than Canterbury - but they didn't work as hard or as smart. It was a shame as the Wellington loosies played really well.
But the Canterbury forwards did better at the basics and, later in the game, we saw locks Isaac Ross and Luke Romano running around and passing the ball - well, you know who let them do that, don't you?
Again, I think the Waikato forward unit might have just a touch more going for them next week but it will be a close-run thing. It will come down to the forwards in my view as I think both sets of backs will cancel each other out.
Canterbury played as well on Friday night as they played badly the week before and they'll want a higher degree of consistency next week. Waikato will really throw themselves at Canterbury and the red and blacks will have to be at their best.
One item of curiosity - we had almost 175 points scored in two semifinals. I think people have worked out they have to chance their arm to win under the new law interpretations and the skill levels and the pace has tested all four sides.
They are going flat out and, while the execution isn't always there, the sheer pace of the way the game is being played at the moment is creating chances and flanking defences. We always said that if Canterbury could get the ball wide against Wellington, they'd win. They did and they did.
I'm not sure we will see quite that amount of scoring and running next week - I reckon some defence coaches might be working overtime this week - but the principle remains the same: the winner of the ITM Cup will have to have a go.
Good, isn't it?