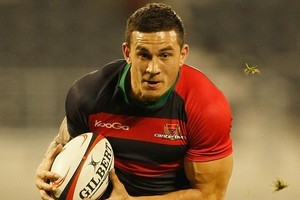 Bit of a damp squib that turned out to be, then. After a season that started out with a hundred potential storylines - the return of Tana Umaga, the introduction of Sonny Bill Williams - the national provincial championship has been pared down to a tired old cliche: the four functioning Super rugby franchise bases will take their place in the ITM Cup semifinals.
Stifle yawn.
The goodwill towards rugby that returned like a spring swell in rugby's heartland provinces will now be swamped by a wave of apathy as the metropolitans thumb their noses at the playoffs, their attention instead turning towards the corporate Christmas party season.
The prospect of another (choose your own combination from the three) Auckland-Canterbury-Wellington final is no match for Grabbit & Loophole's Miami Vice-themed soiree at the Viaduct Basin.
Waikato offer some hope of tournament salvation. Their demolition of Canterbury in the weekend was comprehensive and Waikato Stadium is small enough to offer the hope of a near full-house, though it has been a while since the turnstiles clicked at a decent cadence in Hamilton.
It's a disappointing end to a great competition. The top-seven, bottom-seven intrigue that helped underpin the early rounds also fizzled out, with the split determined after the penultimate round when it became impossible for eighth-placed Counties Manukau to catch Southland.
The competition desperately needed Milton Haig and Umaga's re-tooled Counties to sustain their early charge.
Or Northland, the competition's great entertainers, to add consistency to their brilliant outbreaks.
It needed Southland, who brought relevance and romance back to the Ranfurly Shield, to retain the Log o' Wood.
It needed a Taranaki or a Bay of Plenty to play the role of Hawkes Bay in recent years and upset the franchise bases.
Taranaki looked best placed to achieve it, but after a season where they won nine and lost four, they ending up dying by way of the bonus point - the biggest blight on the Southern Hemisphere game.
Designed for broadcasters and those with short attention spans (the two aren't mutually exclusive), the bonus-point farce has seen Wellington book their place in the semifinals with an eight-win, five-loss record.
Everything you are ever taught about sport from the moment you are old enough to keep score tells you that a 9-4 record is better than 8-5, everywhere except for a competition whose rule makers continue along the misguided principle that four tries is infinitely more noteworthy than three and that a 9-16 loss is somehow more worthy than a 27-35 defeat. But that is an argument for another day.
Now is the time to sit back and rejoice in the re-establishment of the old order - and start RSVP-ing to those Christmas parties.