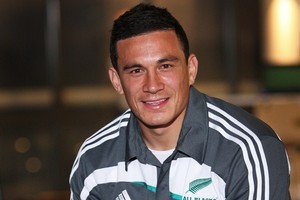 When Sonny Bill Williams turned on his mobile phone after flying north from Christchurch, the first message of congratulations came from his mum.
"About 20 messages popped up, but the first one I read was the old lady's, she was pretty happy," Williams revealed.
"Woo hoo I'm the proudest mum in New Zealand," the message read.
Williams' flight was delayed, but once he heard the news and detoured to complete his media duties at Eden Park, he was heading off to celebrate with his mother.
Williams thanked his rugby mentor Tana Umaga who had texted congratulations, All Black coaches Graham Henry and Wayne Smith for helping him to overcome his self doubts and the rugby public in New Zealand for being so supportive since his return home. "It has really helped my self-confidence as a person, grow."
Playing with Canterbury had developed his game at a great rate, he said.
He felt his distribution skills had improved.
When he was playing with Toulon, Williams said he was unsure how his career would progress.
"I had a lot of self-doubt and put a lot of pressure on myself and sometimes I would lay in bed thinking 'can I crack it?'."
When he was quizzed about his future by the All Black panel, Williams was injured. Then he managed to get a stretch of about 20 games which gave him a better feel for his role in his new sport.
"It has been a tough road, it has been a lot of hard work and I am just proud because this is the biggest achievement I have done in my sporting career. I've had a lot of ups and downs, but this is the biggest up I've had," Williams said.
He was a converted league player, unaware of many of the rugby traditions in New Zealand but Umaga had guided him, counselled him and encouraged him to succeed.
"Since I've been back, I have tried to work hard on my game, head down and try to be one of the boys and try to work as hard as I could on my game. I've still got a long way to go, I know that, but this is definitely a stepping stone."
Williams thought people could relate to him because he was "just a Kiwi fella". Many things had been written about him but the thing which encouraged him was the widespread level of support. "I just want to get on the field bro, I just want to put that jersey on, because once I put that jersey on I will be ready to rumble, bro."