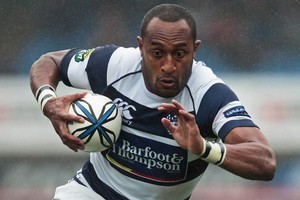 Auckland did what they had to. They beat cellar-dwellers Otago and claimed a bonus point to stay in the hunt for the ITM Cup playoffs.
Take away the final score and it was a hard watch, especially for Otago coach Phil Mooney and his side.
They claimed a significant share of possession, but had scant idea how to use it.
At least Auckland knew the way to the tryline and scored five tries with two others rubbed out by refereeing and television match official decisions.
But large chunks of this Eden Park game were a hard watch.
"It was tough viewing, it was a horrible second half. Both sides, you can't make errors like that at this level - it is not acceptable," Auckland coach Mark Anscombe said.
"We were horrible, to be honest. We scored a couple of good tries, but we have to be better than that.
It is worrying. We seemed flat and we tried to put them away but we just didn't have that bite in our game."
Auckland's defence was solid, but as the showers continued their handling deteriorated and the errors mounted.
Replacement hooker Tom McCartney scored after crisp handling from Joe Rokocoko, Daniel Braid and Liaki Moli rewarded a nifty break from young first five-eighths Gareth Anscombe. It was a rare highlight for the crowd of 6028 who wandered away scratching their heads and muttering about the standard.
Auckland won, though, and this Sunday play Tasman at Eden Park, where victory will promote them into the playoffs.
It has been some time since Auckland's attack looked sharp. The backline hinted at some initial spark where they were getting momentum from internationals Isaia Toeava and Rokocoko. But as the game continued that accuracy drifted and the match meandered through mediocrity.
"It was far more miserable for one team than the other," Otago coach Phil Mooney dryly observed. "Auckland achieved all they had to achieve and it was extremely disappointing from our end. They were better than us, we really hurt ourselves and put ourselves under far too much pressure."
Otago's final match at home against Manawatu will decide who finishes last in the competition.
"We need to win that because our performances, particularly over the last few weeks, have been average and basically there is a lot at stake."
If many in the Otago squad were thinking of scoring Super 15 contracts, Mooney said they were "delusional".
Reinstated Auckland halfback Toby Morland scored first against his old teammates when he took advantage of a solid surge to snipe undetected down the blindside from a maul.
Try-hungry prop Halani Aulika quickly replied for Otago, bashing over from close range and it seemed Auckland's inconsistency would hurt them once more. But twin pieces of opportunism from Toeava and Anscombe shunted Auckland into a 24-11 lead at the break.
Toeava spotted tight forward Tom Donnelly in the defensive line and simply gassed him on the outside for an uninterrupted run to the line.
Then Anscombe hacked on when Otago lost the ball in contact and his awareness and speed gave him his first try for Auckland.
They had a significant halftime lead, claimed their bonus-point try soon after, then, like the visitors, seemed to drift into Sunday slumber.
Auckland: T. Morland, I. Toeava, G. Anscombe, T. McCartney, J. Rokocoko, tries; G. Anscombe 2 con, 2 pen, M. Berquist con.
Otago: H. Aulika, tries; G. Dickson 2 pen.
Halftime: 24-11