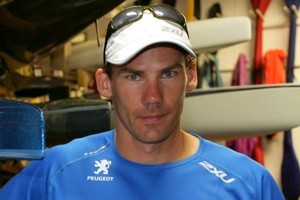 Another top name in New Zealand canoeing has resigned in the latest chapter of the saga affecting the former glory sport.
Mark Sutherland, a former national coach who himself coached axed Olympic stars Paul MacDonald and Ian Ferguson, has resigned from Canoe Racing New Zealand's sprint advisory committee over the Ben Fouhy selection issue.
His resignation follows the non-renewal of contracts for both MacDonald and Ferguson - this country's most decorated Olympic athletes - as national coaches.
That was followed by the resignation of board member Alan Thompson, another double gold medallist from the Olympics.
All three say Ferguson and MacDonald are being forced out of the sport - and criticised CRNZ and Sparc for a culture of secrecy, power struggles and manipulation.
The high-profile Olympians say they and another canoeing coach, Andras Szabo, are on one side; and CRNZ CEO Paula Kearns, high performance manager Wayne Maher, new coach Gordon Walker and Sparc on the other.
They say they have been targeted by CRNZ and Sparc who want to usher in a new era for the sport - without canoeing's most prolific athletes.
In last weekend's Herald on Sunday, an email from Maher was published - asking canoeists to "write something" about "why you no longer want to be coached by Ian and/or Paul and/or Andras ..."
The Fouhy selection saga has been a part of the divide - with the three Olympians arguing strongly that the talented but difficult Fouhy should not have been granted automatic selection without trials and a prescribed selection process.
Fouhy was involved in a high-profile departure earlier this year, citing differences with Ferguson.
Rather than lose Fouhy, a deal was brokered where Sparc would continue to fund Fouhy but he would train separately from the rest of the Ferguson and MacDonald-coached team, coming together only in Europe for key events like the world championships and world cup regattas.
Most observers thought that deal would be in place only for 2010 - but Fouhy has now gained automatic selection for Europe next year.
"That is why I have resigned," said Sutherland yesterday. "I have been a coach of three national canoeing teams and a high performance manager in other sports and I have never seen a situation like this - where someone can be given preferential treatment and not have to go through the selection process like everyone else.
"I am not going to buy into Ferg and Macka's argument [that Sparc and CRNZ are forcing them out and the power struggle] but I am amazed that Ben Fouhy is getting treatment like this.
"I mean, at the end of the day, the last real result the guy had was four years ago.
"I read about how he said he had to leave canoeing because of his relationship with Ferg - well, that was just rubbish. He hadn't had a relationship with Ferg for years."
Sutherland was asked if he thought CRNZ so feared the loss of their funding from Sparc if they didn't perform at international level, so were allowing Sparc to set the agenda with Fouhy - also getting rid of the coaches with whom he had difficulties, so that Fouhy could, in theory, perform.
"I have no direct knowledge of that but, looking in from the outside, that is certainly what I am hearing. They should not be playing with the selection policy. It doesn't matter whether it is coming from Sparc, the board or the CEO or whoever - it is just plain wrong.
"Ben has burned through five coaches [including Sutherland himself] and he has fired them all. There's only one common denominator there, isn't there?
"What happens is that everyone tries to help him; everyone gets in behind him and then he stabs them in the back.
"We all worked our arses off for Ben and then he just spat on us. He would have won gold in Beijing in 2008 if he'd done what he was advised - but he went his own way," Sutherland said.
CRNZ CEO Paula Kearns said: "There are other sports which have the same sort of athlete-led arrangement as we have with Ben. He had some exceptional circumstances because we are a very small sport and he was in an environment that didn't work for him. We had to give him an opportunity to achieve in an environment that did work for him."
Asked whether there was a better way to dispense with Ferguson and MacDonald's services instead of what they claimed was sniping, secrecy and backbiting, Kearns said: "I don't think there has been any of that. Paul MacDonald only had a six-month contract and there was never any expectation it would be renewed.
"It was different with Ian; he was on an annual contract but we had to wait for a review before going forward - and our feedback was that there was a large number of gaps and athletes were looking for a change."
Asked if CRNZ feared that the ruckus over the coaches would cost them Sparc funding, Kearns said: "I don't think so. I don't have a crystal ball but I'd say we would continue to be partners. They know we have made considerable progress."