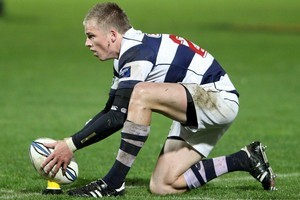 Try as he might, Mark Anscombe can't watch a certain young first five-eighth like any other player.
"I can't," he says. "He's my son. I am human," he says of young Auckland No 10 Gareth Anscombe.
Anscombe senior has experienced both pride and awkwardness as Gareth made his Auckland debut this season. The 19-year-old is clearly a player of some ability, having played for a host of representative teams, including New Zealand Secondary Schools, but there will always be some who believe Gareth has been given his chance because of his lineage.
It's why the Auckland Rugby Union set in place a protocol around Gareth's selection, if it came about. As he was making his mark on the Auckland club scene, leading Ponsonby to a Gallaher Shield triumph, Auckland chief executive Andy Dalton met Mark Anscombe and Auckland backs coach Andrew Strawbridge to discuss how selection might work.
"We decided, because of the conflict, that the decision of who played 10 would be on Straws," Anscombe says.
"It was his call to bring him into the squad and his call to bring him on in a game or to start.
"I trust Andrew. He has 100 per cent say on what backline he wants. I will discuss and debate it with him but it's down to him. I have never had to overrule something he has decided.
"It makes it easier on me, but it still doesn't stop public perception. That perception is I'm his father so he's playing for Auckland. But I can assure you Straws is the man who makes the call."
It was former Waikato fullback Strawbridge who recruited Gareth to Auckland from North Harbour. Strawbridge, who drives a lot of the recruitment for the academy programme, felt they needed greater depth in the union at first five and Gareth was keen on the move because he felt he wasn't getting enough opportunities north of the Bridge.
It was then Mark raised concerns about how his son's recruitment would be perceived publicly. It's one of the reasons Anscombe had never coached his son until this year.
"I found that by staying away from junior rugby - I was always there on the sideline - it was his space," he says. "If I coached him, it would have intruded on his time away from dad. So it's the first time I have coached him.
"I'm in the box with my coaching hat on but I'm also nervous as a father. It's unique but something I'm very, very proud of. I'm very confident in his ability. He's got a good head on him.
"I suppose I treat him harder [than other players] but I have always been a little harder on him - his mother sometimes has a crack at me - because I know what he can do. Sometimes I wonder if he's pushing himself enough."
Gareth will play his sixth ITM Cup match today against Otago, his second start, keeping the more experienced Matt Berquist on the bench. He's a smart player but, while he is athletic, he is also slight like Aaron Cruden.
He will undoubtedly put weight on as he matures further but he will also have to deal with the weight of public expectation and pressure.
"It puts a lot of pressure on," he says. "I'm not naive. I know how people look at things and I certainly know some people think I'm here because of my dad. That's fine. I can't change that.
"The only time it's an issue is at home. He's always talking rugby, game plans and what I could have done differently and I would like to switch off and get away from it all. But 90 per cent of the time it's a good relationship."
It's something Gareth hopes is extended in one area, with Mark coach of the New Zealand under-20 side.