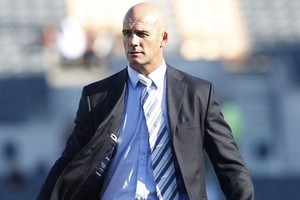 Former All Blacks coach John Mitchell has been stabbed during a home invasion in South Africa.
Intruders to his Hyde Park home stabbed him once in the arm and leg before fleeing with a lap top and cellphone, said Golden Lions officials.
Mitchell, 46, is currently coaching the Lions, based in Johannesburg, after leaving the Western Force after the Super 14 season.
The incident occurred in a security complex on Sunday morning NZT.
Mitchell shares the home with Lions conditioning coach Wayne Taylor. Both are originally from New Zealand.
Apparently Mitchell heard a commotion in the house on Saturday night and, believing it to be Taylor playing a prank on him, inadvertently attacked one of the intruders. A second man then allegedly stabbed Mitchell in the arm and thigh. Taylor was not injured in the attack.
"He thought Wayne was playing a joke on him, so he actually jumped on the person, but it was actually one of the intruders," said Krystle Geach, a spokeswoman for the Lions Currie Cup rugby team.
Mitchell was taken to Sandton Clinic where he received stitches to the wounds and was released yesterday morning.
Rumours that Mitchell was fighting for his life are untrue.
"We at the Golden Lions have rallied around Mitch ... and he'll be back at the office on Monday," said Lions president Kevin de Klerk last night.
"We have moved Mitch and Wayne Taylor to temporary accommodation and we'll get them into something more permanent as soon as possible."
"He's left his family to come here and work in a country he's loved for so long, so obviously he is very disappointed, but more shocked than anything else," said Ms Geach.
Mitchell, who joined the Lions ahead of this year's Currie Cup competition from the Western Force in Perth and recently signed a three-year contract with the union, has been credited with orchestrating a quite dramatic turn-around in fortunes for the Lions.
While the side failed to reach the Currie Cup semifinals, they played a brand of rugby not seen in many a year at Ellis Park and finished fifth in the standings. Their last match of the season was last Friday night when they played the Pumas, and lost, at Ellis Park.
He will also coach the Super 15 team in next year's competition.
Mitchell coached the All Blacks in 2002 and 2003 before being replaced by Graham Henry, and spent four years coaching Perth-based Super rugby team the Western Force.
Mitchell said last week he would be returning to Perth soon to join his family and "watch my boy play some cricket".
Last night police said the attackers were still on the run.
Police said two men broke into the house after apparently climbing over the boundary wall of the complex.
They put the time of the incident at 1.30am.
The pair were armed with a knife and a gun.
"They entered the house through the kitchen open window - the window was slightly open," said Warrant Officer Moses Maphakela.
They went into Mitchell's room.
"They demanded money. They tied him up with a rope at the hands and the feet," said Maphakela.
"They stabbed him in the right thigh and on the back of the right hand."
He said Taylor, apparently asleep in another room, was woken by the commotion.
Maphakela said Taylor managed to escape through a bathroom window and call the police.
The men fled the house with an undisclosed amount of cash, cellphones, an iPod, laptop computers and a digital camera.
Maphakela said police from Bramley Police Station arrived and found two laptops and a camera abandoned nearby.
"We're still investigating. We're still looking for suspects," said Maphakela.
He said police were not aware of any other robberies at the complex that night, and he did not know if there had been previous such attacks there.
Police have apparently taken a statement from Taylor but not yet from Mitchell as he was still recovering.
Police are investigating a case of robbery and attempted murder.
- iol.co.za and NZPA