Auckland's deserved loss was a tonic for storm-hit Southland.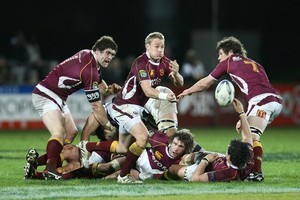 If anything, this weekend made it harder to determine how the ITM Cup will play out, now it is approaching the business end.
Southland established they are not scared of the traditional heavyweights; Bay of Plenty jumped into more serious contention; and Canterbury probably did enough to suggest they are still the most likely winner.
Auckland and Wellington both lost but defeat didn't do much to deter the view they are still on track for the playoffs. Taranaki and Waikato are in the picture and if Northland can beat Counties today, they will be too.
But Auckland are possibly the side who could make the strongest surge to the tape. They have been a little patchy all year, never quite cutting loose or dominating the way they would like, but the run home looks kind.
They have home games against Hawke's Bay, Otago and Tasman and a trip down the road to Pukekohe.
They can also take some confidence that, with more game time, their All Black contingent will become more effective.
"Nothing has changed from our viewpoint," said Auckland coach Mark Anscombe. "Our goal is still to make the semifinals. If we had an ounce more luck and a bit more accuracy we could easily have won [they lost to Southland 9-6]. We did a lot of good things so I'm not despondent.
"As many as eight teams could still make the playoffs. We are happy that we have three home games and if we win all of those it will go a long way towards achieving our goals."
High-flying Southland have the toughest four weeks as they play Taranaki away, then Canterbury for the Ranfurly Shield in Invercargill, followed by Bay of Plenty and Wellington.
The shield has proven to be the most powerful, galvanising force for them and their stoic, passionate rugby continues to be mighty hard to defeat.
Canterbury will be fancied, given the patches of quality they strung together against Wellington. If the men from Christchurch can manage 80 minutes of cohesion, no one will touch them. So far that has proven beyond them and they could be punished, certainly in the playoffs, by All Black call-ups.
Colin Slade is a strong chance to tour the UK, as is Sonny Bill Williams, and if Robbie Fruean continues to play as well as he has, he too could be on the plane.
Southland, by virtue of the points they have already accumulated, Canterbury and Auckland (by virtue of a kindly draw), are the three teams most gamblers would bet big on to make the semis. The fourth is a tougher call.
Waikato and Wellington have the established pedigree, but it's Taranaki who could pip them both - even though they got a bit of a bath from Hawkes Bay last night. They will regroup and have Southland at home this week, followed by Manawatu. They finish with away games against Wellington and North Harbour and will be targeting two wins.