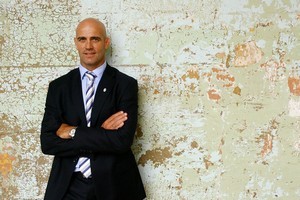 The impending vacancy at the Chiefs presents an opportunity for John Mitchell to be granted absolution by the New Zealand Rugby Union.
The former All Black coach has effectively been in exile since the 2003 World Cup. The NZRU has never quite forgiven Mitchell's All Black reign and he's never been able to overcome the bitterness left by the way he lost his job.
Next year the Chiefs will begin the hunt for a coach to replace the departing Ian Foster. It's the perfect time for the past to be laid to rest - Mitchell will have a chance to strike a truce with the NZRU, who will be involved in the hiring.
Chiefs chief executive Gary Dawson is keen to stress the immensity of the job.
"I don't think there is any doubt this is the best international competition [provincial] in the world," says Dawson. "To win it is incredibly difficult and only a few teams have managed it. This is a hugely prestigious opportunity."
The Chiefs have had a troubled history, with 2004 and 2009 the only two years they have managed to deliver for the entire campaign. The region has inordinate talent with Hamilton Boys', Rotorua Boys' and Tauranga Boys' consistently among the best schoolboy sides in the country. The facilities are world-class, the franchise well supported and the recent appointment of Chris Tindall as high performance manager has given them an expert on succession planning - something that will be vital in the new regime of direct contracting.
Vern Cotter (Clermont), Warren Gatland (Wales) and Tony Hanks (Wasps) have links to the region and all are likely to be interested. Cotter won the Top 14 with France last year, Gatland won the Grand Slam with Wales and Hanks has earned a glowing reputation since he headed to London in 2009. Is Mitchell on the same level as this trio? It's tempting to say no, to see him as some kind of tainted figure, never able to cut it wherever he's been.
The independent investigation into Mitchell's coaching methods at the Western Force in the summer of 2009 hardly helped his reputation. Yet the upshot of that review was to retain the coach and when his tenure at the Force is put into perspective, Mitchell has reason to be proud of what he achieved.
The Force were predictably last in their inaugural year, climbing to seventh in 2007, before settling in at eighth the next two years. Excluding 2006, they won more games than they lost and a handful of players such as David Pocock, Richard Brown and James O'Connor have developed under Mitchell's guidance. This year was a disappointment, finishing 13th, but he's already gone some way to redeeming his personal standing.
He's currently with the Lions in South Africa and enjoying some success. Last year the Lions won seven of their 14 games; this year they have already won six from 11 and are just two points behind the third-placed Bulls.
Mitchell's career has not run smoothly but he has obvious coaching ability - a skill-set that cannot be entirely dismissed. He can get results, he can develop players and New Zealand rugby really can't afford to shun him just because his All Black tenure ended on such a bad note.
The slate needs to be wiped clean but that doesn't mean he should be given the Chiefs job if he applies - it means he should at least feel confident his candidacy will be judged on its merits and not tainted by perceptions of what happened between 2001 and 2003.
For his part, Mitchell needs to show some contrition and a maturity that suggests he has a better understanding of a professional coach's portfolio. His time as All Black coach was marred not by defeat in the World Cup semifinal but by his dealings with key stakeholders, particularly sponsors.
The nadir was struck a few weeks before the tournament at an All Black training camp in Methven. Having said he was unable to attend a drinks gathering that night at the Terrace Downs Hotel due to a planning meeting, Mitchell was then seen by all the guests - key sponsors and NZRU officials - heading out for a run.
It was such a powerful snub it's doubtful that, even if the All Blacks had won the World Cup, Mitchell would have remained as coach. The process that saw him ousted for Graham Henry seemed to be destined to only ever have one outcome, given the way Mitchell was publicly criticised by then NZRU chief executive Chris Moller.
Nothing should be read into the fact Mitchell accepted a conciliatory job with Waikato in 2004. He needed a role and this was one outside the auspices of the NZRU.
If the NZRU have misgivings about why they should extend an olive branch, they need only look to the man currently at the helm of the All Blacks. Graham Henry left New Zealand in 1998 with similar discord.