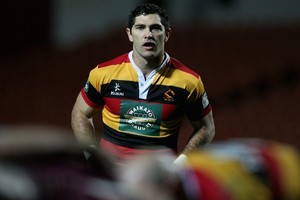 Stick some dosh on the Mooloo men to make the national rugby playoffs.
Talk of Waikato's rise is beginning to bubble away in rugby circles, but they need some extra impetus as the ITM Cup warms towards the semifinals next month.
Canterbury and Wellington have been the provinces to beat in the past few seasons, but there is a feeling, certainly in the area south of the Bombay Hills, that the troops clad in the famous red, yellow and black might give the championship a nudge again.
Waikato last won the national crown in 2006 and that target may seem some way in the distance as they look at their mid-table position. It may get even more disconcerting when their last two outings show a loss to Southland and a draw against Hawkes Bay. Proposing Waikato, after those results, will make the playoffs might have some suggesting mental health issues.
But here goes anyway.
Waikato's remaining games, alternating between home and away starting with a match tomorrow at Waikato Stadium, are Tasman, Northland, Otago, Manawatu and Canterbury. That is a not a schedule to deliver quaking hearts especially with the last home game against Canterbury, played when the All Blacks are in camp preparing for their end of year tour.
Northland may be the most awkward foe. Up north on their own track, with renewed vigour and accuracy, old stagers like David Holwell, rising rockets like Rene Ranger and Jared Payne, the men from Northland have been a consistent and rugged rival.
In Waikato's last round-robin game, Canterbury will be without some from a group of Cory Flynn, Wyatt Crockett, Colin Slade, Andy Ellis, Sonny Bill Williams and Robbie Fruean who have been in the forefront of their work this season.
Only Liam Messam from those who have played for Waikato already this season looks as though he will be on the national selection cusp.
But Waikato do need to get their act together. They were all over Hawkes Bay and then fluffed their lines as the subs were rolled on.
They had the edge on Southland, but needed some meat from the bench. It was slow to appear. Those issues are a matter of timing and experience which new coach Chris Gibbes, assistant Scott McLeod and their advisers will be soaking up.
The Waikato scrum has been a huge strength, their lineout has been passable, loosies combative but they have battled around the inside back channels through injury and inconsistency.
Stephen Donald's return from a lengthy injury layoff will be a huge boost for the side's direction, on defence, and laying their attacking strategies. He will get more help too when Jackson Willison gets over his hamstring issues. The downside is the exit of Richard Kahui but Dwayne Sweeney, Save Tokula and perhaps Christian Lealiifano can cover round midfield.
Up front, the impressive Toby Smith, Aled de Malmanche and Nathan White will get more scrummaging sting from the repaired Ben May and that area is a weapon for Waikato.
So far Waikato have not shown enough of the clout and bloodymindedness they displayed in demolishing Counties Manukau. They have been patchy, too often they have played with an unbending pre-determined look about their play.
As tight as their pack can be Waikato need to let the attacking juices flow a little in the backs. It is all about rhythm and confidence, commodities which are not far from the surface but have yet to spread regularly through the side.
FOUR KEY FACTORS:
Waikato Stadium
This is sacred territory for the Mooloo followers, an arena where the players know its vagaries and the faithful turn up in numbers to support their province.
Injury
Just now, they don't need any more in the backline, especially the three-quarters where damage and Commonwealth Games sevens have bitten into their resources.
Stephen Donald
On the comeback after a severe chest injury. Has the experience of 19 tests and wants to command the five-eighths role alongside fellow former test buddy Brendon Leonard.
Belief
They need to gather this commodity, tell themselves they are good enough, but they must be smarter and sharper to repackage it in a push for the playoffs.